Johnny, 5 Is Barely Alive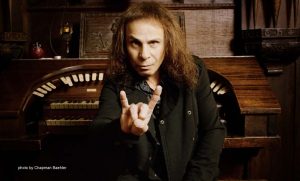 What a strange year for picking a top-five list. This is the first time I've ever had so much trouble choosing my number one, for starters. Usually there is a hands-down favorite and the real fight is duked out for the fifth and final spot.
Not this time. I literally just decided on my number one and only did so because I had to. Column was due. Otherwise I probably would have just continued to swap Dawnbringer and Nachtmystium back and forth every few days until the January 2012 "Caught In A Mosh" was due. But after that choice and The Ocean (that one was easy), I could hardly come up with two more. That's not to say my five picks aren't deserving, only that every year I struggle to narrow 10 or 12 selections to five, so simply being relieved to make it to five is a different sort of feeling.
Maybe I just wasn't listening to the right things. If so, I wasn't the only one because more than one person declined an invitation to participate having been unimpressed with enough records to field an all-2010 roster.
There's also the fact there was hardly any overlap among lists this time. Last year, for instance, Mastodon's Crack The Skye was recognized on 50 percent of the submissions. Nachtmystium's Assassins: Black Meddle Pt. I wasn't as chosen in 2008, but four (of 13) folks found it worthy of top-five attention. Thirteen submissions again this year, but only album, Addicts: Black Meddle Pt. II, shows up more than twice. And it's "only" on three lists. Weird.
What's it mean? I just provide the data. You interpret it. Have a good 2011.

Trevor Fisher, "Caught In A Mosh"
1. Nachtmystium Addicts: Black Meddle Pt. II (Century Media)
2. Dawnbringer Nucleus (Profound Lore)
3. The Ocean Heliocentric (Metal Blade)
4. Barn Burner Bangers (Metal Blade)
5. Armour Armour (Hells Headbangers)
TOP 5 DISAPPOINTING
1. Ronnie James Dio — R.I.P.
2. Iron Maiden The Final Frontier (Sony)
3. The Ocean Anthropocentric (Metal Blade)
4. Down Diary Of A Mad Band DVD (ILG)
5. Kylesa Spiral Shadow (Season Of Mist)
James Genenz, Jungle Rot/Reign Inferno
1. Ghost Opus Eponymous (Rise Above)
2. Black Breath Heavy Breathing (Southern Lord)
3. Anathema We're Here Because We're Here (Kscope)
4. The Body All The Waters Of The Earth Turn To Blood (At A Loss)
5. Whirling Faceless Phenomena (Eisenwald)
Miles Raymer, Chicago Reader
1. Darkthrone Circle The Wagons (Peaceville)
2. Cough Ritual Abuse (Relapse)
3. Arts Vault Of Heaven (Youth Attack)
4. Twilight Monument To Time End (Southern Lord)
5. Withered Dualitas (Prosthetic)
Steve Forstneger, Illinois Entertainer
1. Beneath The Massacre Marée Noir (Prosthetic)
2. Drunken Bastards Horns Of The Wasted (Hells Headbangers)
3. Nachtmystium Addicts: Black Meddle Pt. II (Century Media)
4. October File Our Souls To You (Candlelight)
5. Enthroned Pentagrammaton (Regain)
Adam Scott, Cardiac Arrest
1. Lifeless Beyond The Threshold Of Death (Ibex Moon)
2. Immolation Majesty And Decay (Nuclear Blast)
3. Grave Burial Ground (Regain)
4. Iron Maiden The Final Frontier (Sony) 
5. Maax Six Pack Witchcraft (Abyss)
Patrick Buckley, Devastation
1. Behemoth Evangelia Heretika (Metal Blade)
2. The Crown Doomsday King (Century Media)
3. Down Diary Of A Mad Band (ILG)
4. Doomshine The Piper At The Gates Of Doom (Indie Europe/Zoom)
5. Horn Of The Rhino Weight Of Coronation (Doomentia)
James Staffel, Yakuza
1. Killing Joke Absolute Dissent (Spinefarm)
2. Knut Wonder (Dig) (Hydra Head)
3. East Of The Wall Ressentiment (Translation Loss)
4. Cephalic Carnage Misled By Certainty (Relapse)
5. Mouth Of The Architect The Violence Beneath (Translation Loss)
Mark Sugar, Trials
1. Ludicra The Tenant (Profound Lore)
2. Arsis Starve For The Devil (Nuclear Blast)
3. Ihsahn After (Candlelight)
4. Misery Index Heirs To Thievery (Relapse)
5. Overkill Ironbound (E1)
Will Lindsay, Indian/Nachtmystium
1. Bloodyminded Magnetism reissue (Bloodlust)
2. Swans My Father Will Guide Me Up A Rope To The Sky (Young God)
3. Earth A Bureaucratic Desire For Extra Capsular Extraction (Southern Lord)
4. Twilight Monument To Time End (Southern Lord)
5. Locrian Territories (Bloodlust)
Jerome Marshall, Kastasyde
1. Nachtmystium Addicts: Black Meddle Pt. II (Century Media)
2. Yakuza Of Seismic Consequence (Profound Lore)
3. Decrepit Birth Polarity (Nuclear Blast)
4. Misery Index Heirs To Thievery (Relapse)
5. Enslaved Axioma Ethica Odini (Nuclear Blast)
Mark Hoffmann, Bible Of The Devil
1. Slough Feg The Animal Spirits (Profound Lore)
2. Broken Teeth Viva La Rock Fantastico (Perris)
3. Zuul Out Of Time (Planet Metal)
4. High On Fire Snakes For The Divine (E1)
5. Grinderman Grinderman 2 (Anti)

Scott Hoffman, High Spirits/Dawnbringer
1. Ihsahn After (Candlelight)
2. Divinity The Singularity(Candlelight)
3. Enforcer Diamonds (Heavy Artillery)
4. Enslaved Axioma Ethica Odini (Nuclear Blast)
5. Dimmu Borgir Abrahadabra (Nuclear Blast)
Dan Sullivan/Rob Sullivan
Dan MacAdam/Joe Kaplan, Arriver
1. Harvey MilkA Small Turn Of Human Kindness (Hydra Head)
2. Circle Rautatie (Aquarius)
3. Rabid Rabbit Suicide Song (self-released)
4. Trap Them Filth Rations (Southern Lord)
5. Nachtmystium Addicts: Black Meddle Pt. II (Century Media)
Category: Caught In A Mosh, Columns, Featured, Monthly