It's A Dance Dance Dance Dance Dance World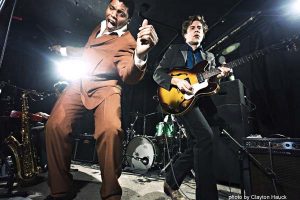 He knows how it looks. JC Brooks can't factor his age, background, and performance style and think there's no one out there raising an eyebrow and spitting out a toothpick. He's not quite the blackfacehedging outrage that Jon Spencer Blues Explosion could be, but this is Chicago. Too many people came up here from the South with nothing and fought tooth and nail in the blues and R&B scenes to see some Jersey kid — an actor, no less — come here and send them up.
Appearing: February 5th at Metro in Chicago.
"The mission from the beginning," he says, "was partially to do a soul thing, but it was mostly to make something people would want to move to — music that wasn't too cool to dance to. Even now, and I don't get out and see as much local live music as I'd like, I go out to some places and I'll be the only one who actually wants to dance. There's head-nodding and I'm not saying people aren't enjoying themselves, but I don't know if there's an audience self-consciousness or some types of music aren't to be danced to? I love a crowd frenzy. Whenever I do a show, I try to add to some frenzy."
So he likes to move. And considering successful national bands like Sharon Jones & The Dap Kings and archival local record label Numero Group digging lost gems out of the soul and funk crates, it's hard to think JC Brooks & The Uptown Sound and Chicago bands like East Of Edens Soul Express aren't part of some kind of movement. The JCBUS release singles on 7-inch vinyl, record on equipment no younger than 45-years old, and wear suits on stage. Once up there, Brooks comes electrified, sprung like a jack-in-a-box and turning the grooves of the band's 2009 debut, Beat Of Our Own Drum, into frantic jams. Their viral cover of Wilco's "I Am Trying To Break Your Heart" recalls Otis Redding's version of "(I Can't Get No) Satisfaction," and Brooks himself gets constantly compared to James Brown.
But find The Uptown Sound online, and they like to use a word like "punk."
"That means different things for all of us," Brooks explains. "I think that music's style, we get more from the Talking Heads: jangly and peppy, upbeat but not necessarily grooving thing as a contrast to the funk and soul that we do. But there's heavier punk in where we're at in a show. While we're a tight band, I leave the polish to them and I'm not afraid to be unpolished — but not so much that I'm giving a shit show. There has to be an element of heart, of genuine feeling."
Brooks bristles at what he considers lazy comparisons, and he has a point. New wave and '80s synth-pop bands have flourished in recent years, and get seriously dissected and debated on music blogs and sell out venues — likewise breezy singer/songwriters and gritty blues-rock bands. But skirt an idiom that's regarded as the peak of '60s and '70s R&B? You must be joking!
"At first the only challenge was trying to define a sound," he says, describing the band's obstacles, "and it's not exactly that anymore, but it's trying to keep ourselves from falling into throwback territory. It's not necessarily us trying to keep our art from that, but from being seen as just another throwback act. We're still writing the same way that we did, but the more people are writing about us the more we have to be conscious of it. We don't want people to dismiss us as a throwback before they have a chance to hear or see us. It's weird. A lot of writeups mention Otis Redding and James Brown. People take that for granted and no one asks about it, and I never get a chance to say that there's so much more to it. There's two artists I'd put ahead of Otis and James and that's Tina Turner and Patti LaBelle. I definitely get more from them than the guys, but anybody who's gonna see us and write about us is going to project the first thing that springs to their mind. I don't mind comparisons to Otis and James, but in my mind my style is coming from a really different place."
That style, while not on the verge of evisceration, will still stand an overhaul when Beat Of Our Own Drum's successor comes available in the spring. Brooks won't reveal exactly what he, bassist Billy Bungeroth, guitarist Ben Taylor, and drummer Kevin Marks are up to, but naturally expresses excitement.
"One of the biggest complaints about our album is that it's too clean and so unlike our live show," he says. "I liked it more back then, but I'm way more excited for the stuff we're doing now. I don't want to be dismissive, but the stuff we're preparing is more exciting for me. It's definitely another step away from the throwback territory, though it keeps the old soul."
In the meantime, the whole band will be taking a break of sorts in the Bailiwick Theatre production of the Tony-nominated "Passing Strange." Brooks gets to revive his acting career while Bungeroth, Taylor, and Marks supply the music.
"[The band] started out as something to fill time," he explains. "I was in a production of a show called 'Ragtime' in 2007 and we had just wrapped up rehearsals and were about to open. I was like, 'Well, I no longer have rehearsals sucking up my evening — let's see what's out on Craig's List.' So I answered an ad that Billy posted and now I've stopped doing theater. For the time being, at least. I often think that the theater thing has helped me with this. This isn't my first band, but I came in with a comfort level of being in front of people. And being ridiculous. There's a very theatrical element to our shows, as much as there's genuine emotion. I wouldn't be able to do the band without being able to go over the top. I'm really grateful to them that they're willing to do theater with me."
He laughs. "I guess they don't have to sit on their thumbs."
Nobody will, if Brooks gets his way. Not even Bailiwick patrons.
— Steve Forstneger