Anyway, Anyhow, Anywhere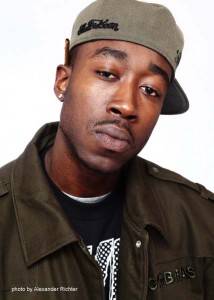 The indie rock scene fuck with me, man, cause I'm grinding like the same way they grind," explains Gary, Indiana's premier rhymeslinger, Freddie Gibbs (born Freddie Tipton). "I don't think that my whole process has been that of a typical rapper."
Appearing: January 14th at Metro in Chicago.
Gibbs, who will headline a showcase part of the Tomorrow Never Knows Festival 2011, has increasingly garnered attention from a fanbase beyond hip-hop heads. He doesn't rap about rapping or dwell on the good old days of hip-hop — he just talks about what he knows. His unapologetic 'hood tales, whether his past dope dealing, ongoing politics on the block, or just getting laid, aren't aimed at any one audience other than the Midwest — he brings his raps wherever he's wanted.
Amid enjoying the laidback beach culture of the West Coast these days, the self-dubbed Gangsta Gibbs makes it back from his new home in L.A. to Gary and Chicago once a month, often to do shows of the unusual variety — all part of his indie-rock-inspired hustle. Last year was especially momentous for him, having rocked show-stealing sets at both Pitchfork Music Festival and the Mad Decent Block Party (neither a gangsta-rap haven). More and more, being the only hard knock on stage is becoming a regular occurrence for this unsigned talent. Having performed for just as many hipsters as hip-hoppers recently, it would be foolish not to ask him about playing to irregular audiences.
"I get a different set of ears every time I get up there on the mic, so it's like I'm spreading the message, man, I'm spreading the gospel," he says. "A lot of different people catching on to what I'm doing."
As the word on Gibbs spreads, he still considers his music hustle a "slow burn" — one where he does things his way: unhurried yet always on-point. Having experienced the false hope of a major label deal (he was briefly signed to Interscope), he has been building a fan base on his own for the past four years, dropping street albums (a.k.a. mixtapes) like The Miseducation Of Freddie Gibbs.
Working with Just Blaze and other first-class producers on these projects has no doubt helped build his buzz, but many of Gibbs' best mixtape songs have used old hip-hop beats (ranging from Xzibit to Masta Ace). It's not a new technique in rap, but Gibbs doesn't just recycle tracks, he reimagines them. Take the Gary-focused 2010 single "The Ghetto," which sees him make a simple Milkbone boom-bap beat from the '90s sound brand new with his hungry street-side vignettes.
Gibbs isn't adverse to working with producers, though, as these days he can be found in the studio with Dirty South sound maker Jim Jonsin and sonic trendsetter Diplo of M.I.A. and Major Lazer fame. But Gibbs is quick to point out that he doesn't chase big names in the industry.
"I don't give a fuck who they produced for — none of that shit," he insists. "I'm all about the vibe with the person — with the music. If we mesh well together, then we can do some shit."
This policy also applies to the artists he chooses to collaborate with, including Bun B and The Cool Kids, who both appear on the 2010 single "Oil Money." "I just want to work with good guys in the game," he says. "I don't want to work with dickheads. That's been my philosophy. As long as I work with genuine, good dudes in this game, I'll be all right and I'll have a good, long lasting relationship with those dudes."
In talking to the MC, his appeal to the indie-rock community becomes more and more apparent. Unlike so many young rappers who remain eager to get pampered by major labels, placed in the studio with hitmakers, and heard on commercial radio, none of these things are a priority for Gibbs.
As he says of signing with a label, "If they give me a lot of bread, I'll fuck with 'em, but if not, I'll keep doing what I gotta do. If I gotta put some shit on goddamn CD Baby, that shit gonna come out. I don't give a fuck. As long as I keep doing shows and keep spreading the word, I think that I'll have an audience for my music."
Freddie Gibbs doesn't need anyone to co-sign or carry him. His mindset is so far removed from the music industry that he is in no hurry to put out his official debut LP, Baby-Faced Killer. In fact, Gibbs' recently announced that another mixtape-styled project titled, A Cold Day In Hell, will drop before his album.
His nonchalance can almost be frustrating, but not giving a fuck is largely what has drawn fans to the rapper. While conforming to industry standards is completely irrelevant to him, it's not as if he doesn't have greater goals with his music. On his first commercial release, the eight-track Str8 Killa EP, there's a synthy song called "Live By The Game" where Gibbs particularly opens up about his hustling past and the hope of moving on from all the associated drama. "My focus in this rap shit it to get me off this block," he spits.
As for getting off the block, Gibbs says, "I'm still trying to get there, man. I'm just trying to make a better way for myself and those around me."
Releasing quality hip-hop without delusions of grandeur is the key. "When I put out my projects, I'm not expecting to sell a million the first week or [even] a hundred thousand . . . as long as I've been touching people and I think that I'm touching a lot of different people in different areas right now," he says.
Spending just as much time on stage as in the studio, Gibbs' willingness to reach out to any audience is what keeps him relevant with or without an album and continuous commercial radio airplay. During our interview, he's on the verge of hitting several college campuses including IU Bloomington, University Of Wisconsin, and Duke to name a few. But he's also gearing up for his headlining show as part of the indie rock-leaning TNK at Metro. For Freddie Gibbs, there is no typical show.
"Wherever you stand the mic, pay me some money, and bring some people out, I'll rap," he proclaims. "It's going down."
— Max Herman