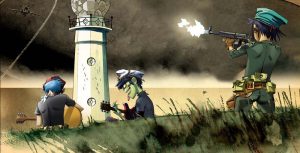 The year in albums, songs, concerts, and geeks? All presented to you by the IE staff.
Albums
1. Gorillaz Plastic Beach (Virgin)
2. The-Dream Love King (Def Jam)
3. Four Tet There Is Love In You (Domino)
4. Foals Total Life Forever (Sub Pop)
5. !!! Strange Weather, Isn't It? (Warp)
6. Nachtmystium Addicts: Black Meddle Pt. II (Century Media)
7. Janelle Monáe The ArchAndroid (Atlantic)
8. John Mellencamp No Better Than This (Rounder)
9. Matthew Dear Black City (Ghostly International)
10. Kanye West My Beautiful Dark Twisted Fantasy (Roc-A-Fella)
— Steve Forstneger
1. Everest On Approach (Vapor)
2. Taylor Swift Speak Now (Big Machine)
3. Josh Ritter So Runs The World Away (Pytheas)
4. Mumford & Sons Sigh No More (Glassnote)
5. The National High Violet (4AD)
6. Hot Chip One Life Stand (Astralwerks)
7. Jakob Dylan Women & Country (Columbia)
8. Frightened Rabbit The Winter Of Mixed Drinks (Fatcat)
9. Mavis Staples You Are Not Alone (Anti)
10. Arcade Fire The Suburbs (Merge)
— Janine Schaults
1. Panda Riot Far And Near EP (self-released)
2. Deerhunter Halcyon Digest (4AD)
3. Sleigh Bells Treats (Neet)
4. Deception Of A Ghost Speak Up, You're Not Alone (Bullet Tooth)
5. School Of Seven Bells Disconnect From Desire (Vagrant)
6. Trap Them Filth Rations (Southern Lord)
7. The Vita Ruins A Day Without A Name (self-released)
8. Norma Jean Meridional (Razor & Tie)
9. Serena-Maneesh Abyss In B Minor (4AD)
10. 11 As In Adversaries The Full Intrepid Experience Of Light (ATMF)
— Patrick Conlan
Songs
1. The Tallest Man On Earth "Burden Of Tomorrow" (Dead Oceans)
2. The-Dream "F.I.L.A." (Def Jam)
3. Willow "Whip My Hair" (Roc Nation)
4. Andrew Belle "Static Waves" (1L)
5. Owen Pallett "Lewis Takes Off His Shirt" (Domino)
6. Kanye West "All Of The Lights" (Roc-A-Fella)
7. Ryan Bingham "Depression" (Lost Highway)
8. Tracey Thorn "Hormones" (Merge)
9. Francis & The Lights "It'll Be Better" (Cantora)
10. Rick Ross "No. 1" feat. Trey Songz & Diddy (Def Jam)
— Steve Forstneger
Reissue tracks
1. Jimmy & David Ruffin "Stand By Me" (I Am My Brothers Keeper/Hip-O)
2. Jimi Hendrix "Bold As Love" (Axis: Bold As Love/Experience Hendrix)
3. Orange Juice "Rip It Up" (Coals To Newcastle/Domino)
4. T.L. Barrett "Like A Ship" (Good God! Born Again Funk/Numero)
5. Queens Of The Stone Age "The Lost Art Of Keeping A Secret" (Rated R/UME)
6. Burning Spear "Marcus Garvey" (Marcus Garvey/Hip-O)
7. Dolly Parton "How Great Thou Art" (Letter To Heaven/Legacy)
8. Jon Spencer Blues Explosion "Blues X Man" (Orange/Majordomo)
9. Bruce Springsteen "Racing In The Street" (The Promise/Columbia)
10. Neu "Hallogallo" (Neu!/Grönland)
— Steve Forstneger
Concerts
1. Roger Waters — United Center, September 20
2. Elton John — Sears Centre, April 15
3. Mary J. Blige — Chicago Theatre, October 17
4. Carole King & James Taylor — Allstate Arena, May 24
5. Them Crooked Vultures — Aragon, May 18
6. Rush — Charter One, July 5
7. Donald Fagen, Michael McDonald & Boz Scaggs — Chicago Theatre, September 11
8. Grinderman — Riviera, November 22
9. Editors — Vic Theatre, February 15
10. Lady Gaga — Rosemont Theatre, January 8
— Andy Argyrakis
2010: The Year In Geek CDs
1. Christopher Lee Charlemagne: By The Sword And The Cross — 88-year-old actor can't seem to get enough of that heavy metal sound!
2. Alexandra Pajak Sounds Of HIV: Music Transcribed From DNA — Who knew a retrovirus could be so melodic?
3. Kirby Krackle E For Everyone — Engaging nerdcore numbers from comic book and videogame über-geeks.
4. Dana Countryman Moog-Tastic: Electronic Melodies From The 24th Century — Retro-electro sounds from the future.
5. Ron Jones Star Trek: The Next Generation — 14-CD box set featuring more than enough cues to kill a Klingon.
— Jeff Berkwits
Local Bands
Jason Batchko
Down The Line
John Ford
Like Pioneers
The Moon-Rays
Push
Roxy Swain
Scythian
Joe Swank & The Zen Pirates
Tiki Cowboys
— Around Hear Staff