Music For The Masses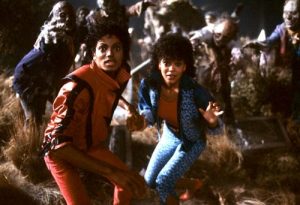 Tis the end of the year, and all through the biz, labels and production houses are releasing music DVDs des-igned to grab your nostalgia dollars. What, you really didn't expect a rhyme there, did ya?
This month, we're gonna focus on a few discs that, with the exception of one, aren't really in the gift-box category, but are of interest nonetheless – most of which feature artists who have shuffled off this mortal coil.
First up, and the only one that qualifies as a deluxe release suitable for a place under the tree, is Michael Jackson's Vision (Epic/Legacy). Just over a year since his death, the cashing in on his legacy continues as this three-disc set contains every video and short film produced in the King Of Pop's career, including 10 that have never been available on DVD. From the early efforts, which truly look like every other video of the time ("Don't Stop 'Til You Get Enough", "Rock With You"), to the ones that have become cultural touchstones and have become part of the Library Of Congress' National Film Registry, all vids Michael are here.
Say what you want about Jacko and his, um . . . eccentricities . . . but dude knew how to put the people in place to create some impressive imagery. The list of big-time Hollywood directors he recruited to helm some of the clips alone puts him at the top of the class.
There's John Landis ("Thriller," "Black Or White"), Martin Scorsese ("Bad" and yes, I had forgotten Wesley Snipes is in that one), John Singleton ("Remember The Time"), and David Fincher ("Who Is It?") for starters. Not to mention legendary photographer Herb Ritts ("In The Closet") and special-effects guru Stan Winston ("Ghosts"). Most bands of the time were lucky to get their buddy in film school to shoot theirs.
The set also features a 64-page booklet with stills from all the video shoots, as well as info and production dates for every clip.
For those who prefer their "Collectors Edition" with a bit more of a down-under flavor, there's INXS: Mystify (Eagle Vision).
The bulk of this set was recorded in 1997 for Germany's "Rockpalast" television series. Of course, lead singer Michael Hutchence would only see five more Earth months after its recording.
As a record of the band in action, Mystify falls a bit short. Hutchence and crew give game efforts at points, but appear to be simply going through the motions at others. A much better look at the band comes on the disc's section dedicated to their first short appearance on the show – in 1984. The six tracks from that era finds the band just before worldwide fame landed, and they still were hungry and eager to please.
As it was originally a TV broadcast, the sound and visual look leaves a bit to be desired – no 5.1 or letterboxing is happening, but it's still an interesting look at two different moments in the group's career.
Folks looking for some virtuosity in their music DVDs should be directed to The Torture Never Stops (Eagle Vision), Frank Zappa's 1981 Halloween concert at the Palladium in New York City.
Despite a rabid cult following, Zappa never got the mainstream success he deserved – not only for his brilliantly left-field songwriting, but for his guitar wizardry as well.
The Torture Never Stops finds Zappa and crew, including guitar sidekick Steve Vai, at their latter-day best. Latter day, that is, because very little of the disc includes Zappa's Mothers Of Invention material. Those looking for the early works, this isn't the place to be.
There aren't any special features on Torture, but the performance is enough to make you see why present-day artists like Les Claypool have been trying to recreate the Zappa magic for years.
And finally, an artist who's still earthbound (although you couldn't tell from his career trajectory.) Phil Collins Going Back: Live At The Roseland Ballroom NYC (Eagle Vision) finds the former Genesis frontman and '80s hit machine back on stage belting out the Motown hitbook. Instead of rehashing his hits, Collins opts for versions of "Ain't Too Proud To Beg," "Tears Of A Clown," "Papa Was A Rolling Stone," and the likes.
Despite having a voice that hasn't changed much through the years, he just doesn't quite have the soul to pull of material such as "Dancing In The Street."
— Timothy Hiatt
Category: Columns, Digital Divide, Monthly