A Family Staple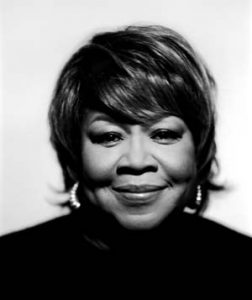 You can't help but hearing it nearly every few hours on WXRT. Rock And Roll Hall Of Famer and soul and gospel legend Mavis Staples recorded her recent album, You Are Not Alone (Anti) at the WILCO LOFT in Chicago. Produced by fellow Chicagoan Jeff Tweedy at Wilco's studio, the intimate and textured production showcases Staples at her most powerful and fervent. You Are Not Alone mixes traditional gospel numbers with two new songs written for her by Tweedy, plus her unique interpretations of songs by Pops Staples, Randy Newman, Allen Toussaint, John Fogerty, Rev. Gary Davis, and Little Milton. The album features Staples' touring band of the last three years: Rick Holmstrom, guitar, vocals; Jeff Turmes, bass, vocals; Stephen Hodges, drums; Donny Gerrard, background vocals; plus Tweedy on guitars, bass, and vocals; Wilco's Patrick Sansone, keys, vibes; Mark Greenberg, vibes, keys; with additional background vocals by frequent Neko Case collaborators Kelly Hogan and Nora O'Connor, and Richard Parenti.
Chicago's self proclaimed "indie-Americana darlings" Dastardly are gearing up to release their debut, May You Never . . ., at Schubas on Thursday, December 9th. The album was engineered at GALLERY OF CARPET in Villa Park by Brian Zieske (Bailiff, Pet Lions, Secret Colours) and mixed by Paul Klimson (The Roots, John Legend).
At RAX TRAX in Chicago, they just finished the final mixes of Eddy "The Chief" Clearwater's "Grammy-bound" record, which will soon be released on Alligator Records. Local bands The Hue, Waterstreet, and 56 Hope Road also finished recording their new albums at Rax Trax.
ENGINE STUDIOS in Chicago had a busy fall. Brian Deck recorded and engineered the Sam Roberts Band while Neil Strauch worked with Derek Nelson & The Musicians, and started the new Pet Lions LP.
At GRAVITY STUDIOS in Chicago, Lee DeWyze's label, Wuli Rec-ords, returned to remix and remaster DeWyze's first album, So I'm Told, with Doug McBride. Look for the re-release of the "American Idol" winner's (featured in this month's IE) album on Universal Records . . . Engineer Joe Peven was busy manning the controls for Shawn Kellner's production of The Run Around's Side Affects May Vary. Look for the release on December 10 on Window Licker Records . . . Peven continued work with local mind benders Dropped Once, whose new single will be available soon on iTunes . . . Gravity's youngest engineer, Ian Spudes, has been working with Polish pop artist Jolanta Skawiniak as well as Chicago rap artists Michael Cage and Brandon Love; but "the hazing is still an issue," according to their press people.
At PLANET10 STUDIOS in Palatine, the amazing and ever talented Amanda Palmer of The Dresden Dolls recorded a cover song for Steel Train's newest release. The song she re-arranged and tracked was "Behavior," and it is available from iTunes only. Along with Palmer, guest vocalist Erica Iozzo and Mat Devine of Kill Hannah performed background vocals.
AT EARLY RECORDING in Evanston, owner Dave Budrys recorded new tracks for Timothy Windwalker's new acoustic reggae-influenced EP with backing vocals supplied by Windwalker's daughters, Zoe and Cleo.
R. Kelly's new album, Love Letters (Jive), was recorded and mixed by Abel Gari-baldi and Ian Mereness at The Chocolate Fac-tory in Chicago. Additional bass guitar & guitars were recorded by Donnie Lyle and additional keys by Rodney East
Hey Studiophiler: To get your studio or band listed in "Studiophile," just email info on who you're recording or who's recording you to ed@illinoisentertainer.com, subject Studiophile, or fax (773) 751-5051. We reserve the right to edit or omit submissions for space. Deadline for January 2011 issue is December 15th.
Category: Columns, Monthly, Studiophile