Of Mythical Proportions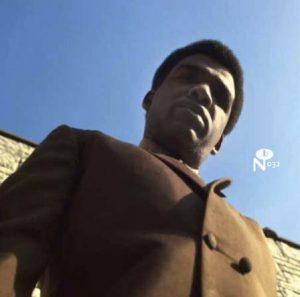 Famous for his raw, soulful vocals and flashy delivery, Syl Johnson may be noted as a soul-music icon, but he was a blues master long before he took up that mantle. Listening to his crackling tenor slice through his 1975 hit, "Take Me To The River," it's easy to forget that the rollicking blues harp that opens the tune is by the same person. The blues underscores everything that Johnson has produced over his 50-year career, and that's breathtakingly clear with the exhaustive Complete Mythology (Numero Group) box set.
Appearing: Saturday, November 27th at Old Town School Of Folk Music (4544 N. Lincoln) in Chicago.
"My stuff is bluesy," he says. "You can't pull the blues out of me. It's impossible." While it is "blues with a syncopated rhythm," it doesn't detract from the overall blues tradition showcased in the release. Documenting his career from his 1959 debut of "Teardrops," a doo-wop ballad full of '50s R&B sensibilities, to "Soul Heaven," a blues-laced instrumental that showcased groovy '70s style, the four CDs explore Johnson's journey from blues musician with funky vocals to accomplished soul singer. (The box set's additional six LPs weren't available for review at press time.)
At 74, Johnson's blues and soul résumé reads like a who's who of music history. He traded guitar licks with Matt "Guitar" Murphy as a kid in Mississippi and later with his best friend Magic Sam as a pre-teen on the South Side. He went on to play guitar and harmonica with Junior Wells, Billy Boy Arnold, Elmore James, Sunnyland Slim, Shakey Jake, and Freddie King. He opened for Howlin' Wolf, Willie Dixon, and Muddy Waters. His seminal black-consciousness tune, "Is It Because I'm Black?," predates Marvin Gaye's "What's Going On" and boasts arrangements by Donny Hathaway. His years recording with the Memphis label Hi Records spawned influential songs produced by the legendary Willie Mitchell with the equally legendary Hi rhythm section. To round things out, we can include the classic hip-hop artists who have sampled Johnson's music, such as the Wu-Tang Clan, Cypress Hill, Kool G Rap, and Geto Boys, which demonstrates how his impact stretches over five decades.
"People say W.C. Handy wrote the blues – he did not. Didn't nobody write it; it wrote itself," says Johnson. As if to underscore his point, he bursts out with a freestyle blues harp riff. Growing up in Holly Springs, Mississippi, he absorbed the tenets of the blues watching his father play harmonica and his family scramble to make a living sharecropping cotton and corn. His older brother, blues guitarist and singer Jimmy Johnson, was the first to pick up the guitar, at the urging of "Guitar" Murphy. His other brother, bassist Mack Thompson, soon followed and young Syl took to sneaking Jimmy's guitar and tracing the frets he played. By the time the family relocated to Chicago in 1950, blues was firmly planted in his awareness.
He was quickly scooped up by James "Shakey Jake" Harris as a harp player and then a guitarist, and spent most of 1955 playing on stage with him. By the next few years, he was backing Billy Boy Arnold, Elmore James, and Junior Wells on record.
Johnson's shift into R&B, with more emphasis on the rhythm, began in the '60s with the popularity of Motown, Stax, and the rise of soulful singers like James Brown, Otis Redding, and Sam & Dave. "I did the blues, but I added the rhythm with it so the young people can move their feet," says Johnson. "[R&B and the blues] is all the same; the rhythm [in R&B] is just a little more graduated." Complete Mythology clearly tracks this evolution, which grows more and more pronounced as Johnson dives into the '70s and funk-laden soul.
This box set represents the first time Johnson's extensive recordings have been compiled into a comprehensive, remastered offering of 28 singles and 10 previously unreleased tracks. From the soulful punch of "Come On Sock It To Me," to the irresistible raw groove of the Hi Records years, the compilation is an embarrassment of riches, to say the least. For an artist who has flown mostly under the radar for his entire career, Mythology acts as an in-your-face diss to all those who slept on his talents.
The YouTube video of the song blowing up with more than a quarter-million views, "Is It Because I'm Black?" is probably Johnson's best-known tune. Stunning in its evocative delivery of lyrics that break down decades of frustration and bitterness from Mississippi sharecropping to Chicago's whites-only blues clubs, it was the first track to directly tackle the Civil Rights-era fury of the African-American community. Released in 1969, the single garnered a number 11 position on Billboard's R&B chart, cutting into listeners' souls with Johnson's aching delivery and a haunting rhythm laced with blues undertones. The following eponymous concept album, released in 1970, became the first to document the social reality of the black experience and marked Johnson's arrival as a noteworthy singer and songwriter. "I didn't want to write a militant song," says Johnson of his inspiration. "I wanted to write about what was really going on in the world. The male gets more money, it's a fact. No matter how hard a woman works, she never earns as much as a man. Now why do you think that is?" To further elaborate on his point, Johnson recalls the story of his grandfather and three uncles purchasing the Mississippi plantation that they had worked on in 1916. They were cheated out of the land decades later and Johnson continues the battle to get it back, insisting that it's the same scenario that he outlined in his song.
"Is It Because I'm Black?" is an obvious standout in the collection, but other less-obvious highlights include the straightahead blues of "I've Got To Find My Baby," the compellingly emotional vocals layered with psychedelic flourishes on "I'm Talkin' Bout Freedom," and the infectious rhythms of "I Want To Take You Home (To See Mamma)."
Besides his gifted daughter, R&B singer Syleena Johnson, Johnson has expanded his legacy to include a young Australian soul singer named Melody. "She's the first artist to come back to record for Twilight Records," he says. "I saw her in the backup band when I was in Australia and I brought her to the U.S. to record. It's part of my legacy, keeping rhythm and blues alive."
— Rosalind Cummings-Yeates
Category: Columns, Monthly, Sweet Home