Time Of The Season (For Recording)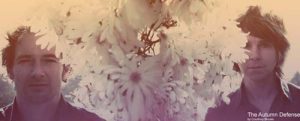 Forgive us while we skip the hypothesizing over what Wilco would sound like without him, is he their George Harrison, and, woe is he, doesn't the world care enough about John Stirratt? Without much hullabaloo, Stirratt and Pat Sansone – a relatively recent Wilco hire – released their fourth album as The Autumn Defense this fall. Once Around (Yep Roc) relaxes on pillowy, AM-radio sounds not unfamiliar to fans of The Chamber Strings, whose frontman Kevin Junior is a friend of Stirratt's. The bulk of the tracks were self-recorded with Mike Napolitano at THE LOFT, BLACK SHEEP, ROOM THREE FOUR, and SOUNDS GOOD, all in Chicago, though the album's genesis came together in New Zealand between bouts of Lord Of The Rings reenactments and helping Crowded House's Neil Finn assemble 7 Worlds Collide. The band play Lincoln Hall on November 20th.
MILLION YEN STUDIOS in Chicago hosted AM Taxi on their return home. The Virgin Records property tracked some B-sides with headman Andy Gerber . . . The Matics have experience recording in South Side oil refineries, so it'll be interesting to hear what impact (if any) Gerber's facilities will have on the two sides they cut for a 7-inch single . . . Engineer Jeff Dean spent separate sessions recording Naked Raygun offshoot The Bomb and mixing an EP for Horace Pinker.
If the centerfold photo in the liners of the new Filligar album are of the inside of ELECTRICAL AUDIO in Chicago, it goes a long way toward explaining how Steve Albini's studio gets its legendary sound. Of course, having no ceiling or walls and all those people in it must wreak havoc on its vintage equipment. The band produced The Nerve on their own there, though welcomed Greg Norman into the engineer chair by brushing the dust off and invitingly slapping its seat. Doug McBride knew exactly whose buttprint it was when the chair and master recordings arrived at GRAVITY STUDIOS for finishing touches.
Cap D from the All Natural crew threw a producer's party when assembling his latest solo album, PolyMath. Unfortunately, things got so out of hand no one among Illmind, K-Kruz, No I.D., and Battletek bothered to write down where they were when they did it. Someone stayed lucid enough to remember Collin Jordan mastered the tracks at BOILER ROOM in Lakeview.
UPTOWN RECORDING in Chicago has completed upgrading its shop with the newest Pro Tools 8.1 software featuring HEAT, which replicates the big mixing board sound with out the big price. Video clients should know Uptown has transitioned to the newest Final Cut Studio bundle with two 20-inch LCD monitors and a 42-inch plasma HDTV. Audio mixing moves to a Genelec 5.1 system featured in Studio West . . . Rob Ruccia and Dan Stout engineered the score for Amreeka, a film by Cherien Dabis that's set in smalltown Illinois and won awards at Sundance and Cannes. The score was created by composer Kareem Roustom. 
Back at GRAVITY, the studio has launched its own streaming radio station at gravitystudios.com, featuring bands it has recorded over the past two decades. McBride explains, "We went through all the DATs and CDs from almost 18 years of recording bands. We chose at least one song from every band that we could find, hundreds of bands represented here: some spent three months making an album for a major label; some spent a day knocking out a three-song demo. I can hear the ADAT/Mackie era, the AMEK/Studer era, the Neve/Pro Tools." Some of the bands and artists include Plain White T's, Nash Kato, Umphrey's McGee, Veruca Salt, and Fall Out Boy.
Category: Columns, Monthly, Studiophile