Coming Home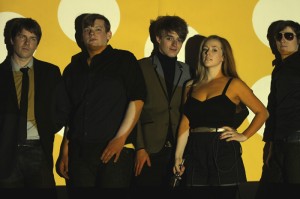 Rarely will anything be gained from watching someone struggle with technology. In terms of fulfillment, the experience ranks alongside teaching someone to whistle or trying to tickle yourself. But, as Gold Motel guitarist Eric Hehr repeatedly failed to connect to a conference call with IE and frontwoman Greta Morgan – who was beside him holding her own connected cellphone, calmly giving instructions – a routine soundbyte was proven solidly true.
Appearing: Saturday, November 27th at Subterranean (2011 W. North) in Chicago.
Gold Motel exists because Morgan is on break during The Hush Sound's self-induced hiatus. Off the grid since 2008, the Hush will play Metro for a special hometown performance on December 26th, and she will dutifully join them. But when she's not so occupied, she'd like to make the most of Gold Motel, whose sonics and lineup she designed. Morgan, like so many before her, insists Gold Motel are more than just a solo-project, and folks will placate her with a forced laugh and follow-up questions about The Hush Sound.
But Hehr's determination to be on this call and Morgan's willingness to put the press on hold until he succeeds? Jesus, this might really be a band!
"Eric has been playing in bands since he was in fifth or sixth grade," Morgan says, "and one of his bands played at my high school. My mother was the cool neighborhood mom and she would let us hold concerts for all these teenage bands; his band played in my basement a long time ago."
Of all the pimply faced teens to circulate through that corner of suburban Oak Brook, Hehr and Morgan hit it off. Even during her hectic, West Coast-based schedule with The Hush Sound, the two remained pen pals at the very least. When it seemed likely that her band would need a break, Hehr and her friends in fellow locals This Is Me Smiling were on her shortlist.
"I started thinking ahead to what the new band would be and how I wanted to do it and who I wanted to work with," she recalls. "At the end of 2008, I was imagining what Gold Motel would be and, in 2009, I started writing and came home to Chicago to start working with the boys."
Hehr airlifted out of increasingly dead-end personal committments. "I was still in Chicago, playing with The Yearbooks, a film student at Columbia College, and working at a Wrigleyville restaurant, hoping one would pay off so I could drop the other two. I wasn't fully involved in anything Gold Motel related until October [2009]. And it was an accumulation of me being dissatisfied being a film student when I would rather be playing music, and The Yearbooks were about to implode. Everything was ending and it was a good time for something to start."
Aside from a few song sketches, Morgan, Hehr, Dan Duszynski, Matt Minx, and Adam Coldhouse built their debut album, Summer House, from the ground up. Duszynski, whose home studio hosted the recording sessions, and Morgan were deep into the project before Hehr joined, but, like his experience with our phone call, he was willing to do anything to become part of the unit.
"Everything I've done before, I've done everything," he says, noting the change. "This was challenging because when I got into the band, half the songs were already written and guitar parts were already designed by Dan. So I had to play basically like a chameleon and pick up parts I had never played before and in a style that I'd never played. I was using chord voicings I would never use and even the way I had to hit notes were different. Overall, it made me a better musician from a technical standpoint. But to this day I'm still like, 'Guys, if I'm fucking things up, let me know.'"
He doesn't have too much to worry about. The key to Summer House's performances is not the technical accuracy but the energy, which makes the title come to life. Though Morgan's experience is as a keyboardist in The Hush Sound – she's classically trained on piano – Gold Motel peddle sunshiny, West Coast pop rock like kids born on the beach. Even the most cursory glance at the tracklisting reveals so much ("We're On The Run," "Stealing The Moonlight," "Fireworks After Midnight"), mixed with equal parts Camera Obscura and Yacht. It's an album about youth, capably assisted by relationships formed long ago.
"Everybody in The Hush Sound had specific roles," Morgan says, "and it felt limiting. In Gold Motel, we can do whatever we want. In The Hush Sound, everything's very plotted out. Our management and our record label have a big say in what songs go on the album; there are a lot of cooks in the kitchen. This band, we're booking our own shows, self-managing, self-promoting, and we have total creative control. Coming from a position where I didn't have a lot of [that], I've blossomed. There's a growth and freeness."
There's also a wealth of material, made all the more surprising by the fact the material doesn't go back that far. Gold Motel popped out an EP earlier this year, released Summer House in the fall, and already have new, non-album single, "Cold Shoulder," ready to go. Despite knowing how exhausting recording can be and what it takes to get an album right, Morgan says the debut couldn't have come together any more easily.
"All the songs were really really easy," she says, "one or two days to arrange and record. There's one song called 'Sunshine All Night,' and Dan and I worked and reworked it and decided it wouldn't fit the album so it's a b-side; that would be the only negative side of one of the songs. The oldest is 'Who Will I Be Tonight,' which I wrote at the beginning of 2008. Other than that, most of the songs are from late 2009 or earlier this year."
To an outsider, it's a remarkable production rate; to the band, it's just a formality in a lifelong partnership.
"I think the foundation for this band has been there long before we started writing music together," Morgan says. "I've been a fan of [Hehr's] bands since I was a teenager – his guitar playing and this songwriting – and thought it'd be fun to be in a band together one day. I felt that way about This Is Me Smiling, who The Hush Sound took in 2006 on our first headlining tour. It's kind of like having a Chicago dream team."
Before she can get too caught up, there's a world to convince that she's not Gold Motel's sole proprieter.
"I sing lead most of the time, so I guess I'm the frontperson," she admits, "but there's definitely a full-band dynamic. It's really important to the live show. I'm generally turned off by the solo singer/songwriter stigma. I made a decision that I wanted to be in a band with great musicians and so that's why we started the group. I don't want there to be just one frontperson."
— Steve Forstneger