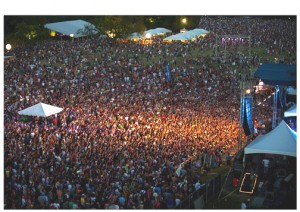 Austin. Texas. The city whose official slogan is, boldly, "The Live Music Capital of the World." Insert heated debate…here. Just voted "Best Music Town" by the readers of Frommer's Budget Travel, Austin boasts over 200 live music venues, in a metro area of just 1.7 million. The classics are places like the Saxon Pub, Antone's and the Continental Club. Even the Italian restaurant Botticelli's two doors down from the Continental (owned by two brothers from Chicago) has live music in their "back yard" six nights a week. However you slice it though, there are two times a year when Austin is the undisputed Grand Poobah of the musical universe. In March, when the South By Southwest music conference and festival turns the entire city into one big, throbbing jam, along with film and interactive festivals, for two-plus weeks. And in mid-Septembet to early October (depending on the UT football schedule) when the Austin City Limits Music Festival, more familiarly known as ACL, presents 130-plus bands on eight stages in three days at Zilker Park downtown. ACL borrows its name from the longest running music show on television. In its eighth year, ACL Festival attracts visitors from around the country and beyond. ACL is produced by C3 Presents, the same group that brings Lollapalooza to Grant Park every year. In a this short time the Austin City Limits Music Festival has joined the aforementioned, Bonnaroo and Coachella as the United States' premier rock festivals. The capacity this year was increased from 65,000 to 75,000 with the addition of the Great Lawn area of Zilker Park.
FRIDAY:
The festival began with a few local faves; Sahara Smith, whose dusky voice, mature writing and folk/Americana/country/bluegrass sound belie her 21 years. Having T-Bone Burnett helm your first effort didn't hurt, either.
On the other end of the longevity spectrum, legendary mega-Grammy recipients Asleep At The Wheel helped kick start their hometown festival with their trademark Country Swing. Towering (6'7," not counting cowboy hat) frontman Ray Benson is among Austin's most beloved citizens, with good reason. The Wheel is celebrating 40 years in business with a series of commemorative shows, including one with Willie.
Another recent Austin resident, John Popper and Blues Traveler acquitted themselves well with his unique harmonica virtuosity and an assortment of classics and newer material.
For me, a highlight of Day One was a beyond-energetic set by 70's soul torch bearers Kings Go Forth from Milwaukee. Named for the 1958 Frank Sinatra, Tony Curtis & Natalie Wood film, the 9 piece congregation channels source materials such as Curtis Mayfield, The Spinners, Sly & The Family Stone into a sound familiar and unique to themselves. With a booty bouncing backbeat and harmonies as pure as a new snow in the Dells, Kings Go Forth delivered as promised. They tour through through Chicago occasionally, most recently at the Double Door. Catch 'em if you can.
Austin rooted, indie-rock darlings Spoon celebrated their seventh studio album and true breakthrough Transference with a rollicking set, with singer/mastermind Britt Daniel at his lyrically explosive best. The crowd, which is made up of mostly out-of-towners were clearly pleased.
The first night ended with a smashing trifecta of the beyond-gravelly voiced Oscar winner (Crazy Heart) Ryan Bingham and the Dead Horses, soulful/jammy Robert Randolph and the Family Band and the indie, afropop, ska of Vampire Weekend.
SATURDAY:
Day two dawned with another Chamber of Commerce sky and temps in the 70's and low 80's. Rock Island native and Chicago-familiar presence Lissie played an early (OK, early by music festival standards) set to a decent, at first curious, soon firmly in her camp, crowd. Her approach is definitely straightforward. Her three piece band is so stripped down that her bassist Lewis Keller is also her drummer-at the same time. Playing bass, kick drum and hi hat simultaniously, the sound was fuller than expected. Her barefooted, flowing gown clad appearance wes totally in keeping with her sound. She played tunes from her EP "Why You Runnin" as well as her full length debut "Catching A Tiger." The inevitable Stevie Nicks/Fleetwood Mac comparisons were in attendance, however she transcends it with contemporary pop influences as well, such as K.T. Tunstall. As for Lissie herself, she lists her influences as "porches, pie and cigarettes."
The Jones Family Singers have been a perennial ACL favorite. The Bay City, Texas group, led by paterfamilias Fred A. Jones, Sr. have a way to groove you and move you. Their uplifting gospel set hit a crescendo when she was lifted down impromptu by a few beefy fans and sang her last two tunes surrounded by the mugging fans taking full advantage of the photo op.
Pete Yorn, on the other end of the festival, geographically and musically played at the large Honda stage to a huge crowd of partisans. The Los Angeles-based singer/songwriter peeled away the baroque orchestrations of his critically acclaimed previous work to expose a beating rock 'n' roll heart, in keeping with his latest effort, the self-titled "Pete Yorn."
One of the most unique sets, in a packed tent full of full on enthusiasts was Beats Antique. Their Middle East inspired world beats are the musical alliance of producers David Satori and Tommy Cappel. Their inspired show was emphasized by their collaborative partnership with world-renowned belly dance performer and music producer Zoe Jakes.
The Saturday closing performance was by Muse whose blissfully joyful fans were proffered a set of dramatic rock ballads and punchy, fuzzy head-bang-worthy anthems.
SUNDAY:
The final day of ACL 2010 began with 15 year old fiddle prodigy, singer/songwriter Ruby Jane. Already having toured with Willie Nelson, Asleep at the Wheel and having played the Grand Old Opry at 10 (youngest fiddle player ever invited to perform at that institution), her voice, here a bit Patty Griffin, there some Kathleen Edwards will be heard more frequently in the future.
I had a chance to speak with another young/old soul, Maxim Ludwig. Just 21, he sited influences as diverse as poet Robert Greeley, William Faulkner and Chicago touchstone Studs Terkel. He and his band The Santa Fe Seven don't stick to the standard Americana musical motions, however still inspire comparisons to artists like Hank Williams and Ryan Adams.
Yeasayer, Alternative / Indie / Experimental exponents drew a large, intrigued and intriguing crowd. The trio, comprised of Anand Wilder, Chris Keating and Ira Wolf Tuton, released one of the most anticipated albums of 2010 with Odd Blood, an electronically-infused dance-rock romp through a twisted and exciting musical realm.
Edwin Sharpe and the Magnetic Zeros (coming 12/4 to the Congress Theatre) were sure to make their crowd smile with their mega-cheerful pean to patching up a broken relationship "Home." Mission accomplished. Rolling Stone declared the group an artist to watch in 2009, calling them a cross between Arcade Fire and the Mamas & the Papas. Their own biography perhaps summarizes their effect best: "Fans are known to be so overcome with emotion at their live shows that tears of euphoric joy are not uncommon."
Richard Thompson is a musician's musician. The kind of singer-songwriter who has influenced untold numbers of other incredible artists without becoming a household name himself. That said, he has enjoyed untold numbers of accolades. Thompson was a founding member of the '60s British folk-rock pioneers Fairport Convention. After departing from the band in the '70s, Thompson continued on solo projects and collaborations. Not the most crowded stage, up against Norah Jones and The National, Richard and Company performed a blistering set consisting of tunes from his latest effort, "Deram Attic" as well as songs reaching back decades.
Speaking of reaching back decades, the Eagles were the absolute final show of the festival. With no competing stage activity, it seemed like the entire festival was centered around the iconic country-rockers. Playing a two-hour set that covered absolutely all the bases with an impressive video complementing the tunes, people left ACL 2010 smiling, tired and musically satiated.
There is a saying in the Live Music Capital (sub-slogan: "Keep Austin Weird") that something may contain a certain amount of "Austin-ness." The ACL festival delivers Austin-ness on the grandest of all scales. As there are about 60% out of town attendees, the sound you can hear around here these days is a fleet of U-Hauls headed south on I-35.
— Ron Ramelli
Category: Featured, Live Reviews, Weekly