The Shrine, Chicago
Saturday, November 5, 2010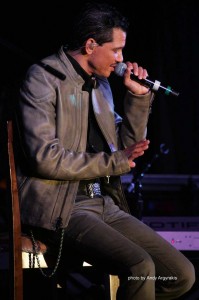 In his prime, El DeBarge and his family band bearing the same last name were competing neck in neck with The Jacksons, Prince and the early days of New Edition. Aside from rock solid status on the Motown label and R&B hits galore, the group's been covered or sampled by Mary J. Blige, Mariah Carey and Ashanti (amongst countless more), making up for the fact it's been 16 years since the public last heard from the singer/songwriter/piano player.  
But that's not to say El DeBarge hasn't been busy, just in the non-music industry sense, getting caught up with a spiraling downfall that started with substance abuse, evolved to incarceration and ended with a religious rebirth. The results of the journey are chronicled throughout his aptly titled new disc
Second Chance
(Geffen), which could be perceived as trite if he wasn't so convincingly sincere across an album that also includes guest stars Fabolous, 50 Cent and Faith Evans.  
Though the disc doesn't drop until November 30, the redemptive soul star popped up in a surprise show at The Shrine, a relatively new night club in the south loop that recently attracted Drake, Twista and Lupe Fiasco. Even with no advertisement beyond the club's mailing list, the gig sold out by the time DeBarge took the stage at a quarter to midnight, and across the next hour, it was apparent that while he's changed those bad boy ways, his voice was as smooth as ever.  
The opener "All This Love" popped to life with sultry, brass-stamped R&B courtesy of an eight piece band and two background singers (all of whom were from Chicago). Though the session players just met DeBarge earlier that day, they sounded like they'd been playing together for years, especially come a ten minute jam to late great label mate Marvin Gaye via "I Want You."  
Even though he's knocking at the door of 50, the crooner had no trouble nailing the ultra-high falsettos of "Time Will Reveal," augmented seductively by the female vocalists. That easygoing appeal continued throughout "I Like It," another ballad loaded with sex appeal that served as a full audience sing-a-long. Despite a lethargic start by the band that was eventually corrected after DeBarge's brisk hand motions, the frivolous but fun finale "Rhythm of the Night" sent the party into ultra-overload, even prompting the bartenders to break out some dance moves.  
After an extended ending, DeBarge knelt down in front of the microphone in a prayerful position and tossed at least a minute's worth of thankful glances and head nods to fans, once again affirming his newly humbled stance. As the cheers continued long after he left the stage, it was obvious that at least in Chicago, the singer's "Second Chance" is off to a strong start.  
-Andy Argyrakis
Category: Featured, Live Reviews, Weekly