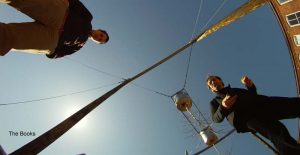 We have such fun with bandnames and titles at IE. Nothing tickled more than — riffing on an Epic/Legacy title — saying that The Clash live in Shea Stadium. And these Books! Gah-ha-ha-ha!
If you wrote it down somewhere, I could read "you like The Books." Even the band's in on the act: The Way Out (Temporary Residence) comes in multiple cover variations, so you can't judge The Books by its cover! Of course, you need these games because if the academics (another books reference) have their way, they'll pound you with the notion that they're a band so forward-thinking you'll never look at music the same way again. Dunces of the world: be not afraid! Some of The Way Out can actually be enjoyed, even with primitive dancing! But mostly, prepare to be impressed by the hand-sewn fabric of samples and pop constructs. It's difficult to make meticulous art sound enlivening or even compelling, though Nick Zammuto and Paul De Jong manage breakthroughs the closer they veer toward convention. The Black Heart Procession seem an ill-matched opener, something I'd agree with had they not released the Blood Bunny/Black Rabbit (Temporary Residence) remix EP to coincide with the jaunt. While a prolonged sortie into the (DJ) Shadow world of electronic splicing isn't recommended for them, though it's worth hearing their careening, funereal pop slashed so. (Friday@Vic Theatre.)
This weekend also revives a citywide tradition of bands posing as their influences (or sometimes not) for Halloween. Abbey Pub crowds two days with imposter madness, beginning Friday with Tomorrow The Moon as Pink Floyd, Penthouse Sweets as The Kinks, Ellis Clark & Epicycle as The Beatles, Who's This Mary as The Cure, Canasta as Elton John, Sentinels as MC5, moving into Saturday with ZZ Listening as ZZ Top, Phil Angotti as Buddy Holly, Webstirs as The Beach Boys, Delafields as New Order, and Curtis Evans as Nirvana.
Double Door gets into it with The Last Vegas as Aerosmith, The Midnight Shows as Duran Duran, Blackbox as Joan Jett & The Blackhearts, Slack Babbath as Black Sabbath, Husker Dudes as Hüsker Dü, The Sweeps as The Cars, and DJ Eric as Slash. There are also two other related events, as 56 Hope Road play Gorillaz at Darkroom on Friday and Elvis Presley impersonator Matt Lewis and Michael Jackson's actual body double Edward Moss combine to hit the Raue Center For The Arts in Crystal Lake both Friday and Saturday.
— Steve Forstneger
Category: Featured, Stage Buzz, Weekly