Iron Man 2
Warner Bros.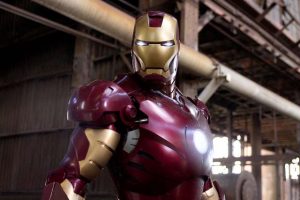 Iron Man may possibly be one of the best comic-book movies ever made, and its critical and financial success meant that the sequel was as inevitable as the sun rising in the east or Lindsay Lohan doing something stupid.
Of course, sequels rarely live up to the original, and Iron Man 2 is no exception.
Back again are Robert Downey Jr. as Tony Stark/Iron Man, Gwyneth Paltrow as his doting assistant, and Samuel L. Jackson as Nick Fury. This time out, we also get Don Cheadell stepping into the "Rhodey" Rhodes role in place of Terrance Howard.
New film means new bad guys, so here we have Mickey Rourke, fresh off his career renaisance, as Whiplash, a Russian ne'er-do-well out to extract a little revenge. Topping it all off is Scarlett Johansson as Natasha Romanoff, who may or may not be one of the good guys.
For the second helping, the world finds Stark living it up with the whole playboy superhero thing. However the battery pack in his chest that keeps him alive is not only running out of juice, but is slowly poisoning him. Plus, he's got a neo-con senator played by Garry Shandling (Hey! Where have you been?) on his case wanting to nationalize the suit. So clearly, dude's got a lot on his mind.
None of this gets in the way of a lot of explosions, chases, and general mayhem, which is why Iron Man 2 fails to live up to the original. Despite good turns again by Downey Jr. and Paltrow, the film fails by substituting noise and flashiness for a good story. Rourke gets lost in all the clutter, and Johansson has still not shown any hint of acting chops, despite being an "it" girl for the past decade.
Like the Blu-Ray release of the original, Iron Man 2 comes loaded with special features. There are eight deleted scenes, segments on the suit, introductions to the new characters from concept to screen, commentary by director Jon Favreau, expanded looks at the digital-effects process, and that just scratches the surface. Unlike other big-budget blockbusters that treat special features like they had to pay royalties for them, Iron Man 2 delivers the goods in spades.
If only the film itself was so generous.
Tommy
Sony Pictures
The catalog of director Ken Russell truly runs the gamut. There's the good (Altered States), the bad (Gothic), and the holy-crap-how-did-this-get-funded-and-why-the-hell-am-I-watching-it (Lisztomania). While his adaptation of The Who's Tommy doesn't fall into the last catagory, it's miles away from the first.
Tommy does have a strong cult following, however, and now all of the tripiness has hit Blu-Ray.
Love it or hate it, ya gotta admit there's a lot going on here, and truth be told, your assesment of the film will depend heavily on your state (or altered state) of mind upon viewing. Russell's fever-dream reading of of the classic-rock opera doesn't diminish the source material too much – let's face it, the story was pretty absurd to begin with – but it doesn't add anything either.
Still, the trainwreck cast does prove to be an amusing watch. There's Who frontman Roger Daltry as the deaf, dumb, and blind kid turned messiah, also Ann Margaret and Oliver Reed as his mother and stepfather. All well and good, but from there it gets dicey. You get Tina Turner as the Acid Queen, Jack Nicholson as the Doctor, and Elton John as the Pinball Wizard.
Russell's Tommy is definitely a frustrating affair. For all of the good moments, there are an equal number cringe-inducing ones. And, if you're a Who fan, you've seen it many times before.
So the question is: Is it worth ponying up the cash for the Blu-Ray? If you're looking for a plethora of special features, no. Inexplicably, features that were on the original DVD release aren't even included here. Yet if all you're looking for is a major upgrade in picture and sound quality, then why not?
— Timothy Hiatt
Category: Columns, Digital Divide, Monthly