With The Lights Out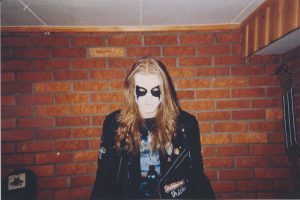 Aaron Aites and Audrey Ewell love black metal. More accurately, Aaron Aites and Audrey Ewell are obsessed with black metal. The couple spent significant time at Aquarius Records in San Francisco where friend and co-owner Andee Connors recognized the couple's bias toward lo-fi music and suggested they check out black metal. Hesitation turned into curiosity and then immersion. Soon, they were snatching up everything they could get their hands on. Everything.
"We listened to Darkthrone first and were shocked and loved it," Aites says, calling from his and Ewell's new hometown of Williamsburg, New York. "As soon as we got into it we basically bought anything there was to buy."
But it was the one thing they couldn't find that eventually convinced them to pack their shit, move to Norway for two years, and make Until The Light Takes Us, a film that pulls back the curtain on black metal and provides an intimate look at the genre, culture, dogma, and lifestyle. The documentary includes interviews with members of Immortal, Gylve "Fenriz" Nagell (Darkthrone), Bård G. "Faust" Eithun (Emperor), Jan Axel "Hellhammer" Blomberg (Mayhem), and the infamous Varg Grishnackh (Burzum, Mayhem), who, at the time, was still imprisoned for murder and arson. 
"We thought there had to be a movie about this black metal stuff, 'cause we just assumed there would be – that this would already be a documentary," Aites says. "There really wasn't one. The genesis point of it was just trying to find the movie we wanted to see and being unable to."
Factory 25 released Until The Light Takes Us on DVD (including a limited-edition version with tons of extra interview footage) late last month.
Mosh: When did you and Audrey decide to move to Norway?
Aaron Aites: We knew it early on. There was never really a question that we were going to have to move there for a period of time in order to make the kind of movie we wanted. We wanted it to be in-depth and sort of from the inside looking out instead of from the outside looking in. So we knew almost immediately that in order to make the kind of movie we wanted to make we'd have to uproot ourselves and live there.
M: Was it difficult to gain the trust of some of these bands?
AA: It varied. Every one of them was different. The two main ones in the movie are Gylve and Varg. Gylve sorta, especially at the time, had a reputation for not being very forthcoming. But we met him and got along great immediately. We have the same taste in music, even beyond black metal, and he was really into it from the word go, basically. He agreed to do the project the first time we met him and also said under no circumstances would he ever watch the film, so to feel free to film whatever we needed to and put whatever we needed to on screen and not worry about it. Varg, on the other hand, was the exact opposite. It was very difficult to get him to participate. It started out where I'd have to write him letters in prison. We were already over there, and basically there was no way we were going to make the movie without Gylve and Varg. That was the first thing we determined when we decided to see about making the film, that it would only be worth doing if you had those two, both, in it. You have them in it, or you have other people talking about them, and that wouldn't make for a very interesting movie. We were over there shooting with Gylve a couple months before Varg even agreed to meet with me. He was basically just sending me letters saying "No. I won't do it. Even if you'd make the movie exactly as I myself would make it." Those were really hard letters to get. But he'd usually end them with a question, so there'd be some reason to write back, and eventually he agreed to meet with me. When we actually sat down and met, and I was able to really explain to him what we're going to do with the movie and what the concept of the movie and show him written out on paper what the plan was, he was very eager to do it. They both really threw themselves into it, which was great. I think you can tell in the interviews that they're really engaged and forthcoming. I'm proud of the movie, and I feel like if you watch it then you get a really good idea what both of them are like. I honestly feel their depiction onscreen is very true to how they are.
M: Varg carries himself so well, and with such confidence, you sort of buy into his craziness. Like, "Oh yeah, maybe that church did deserve to get burnt down."
AA: I know what you mean. We did a test screening of the film, not for metal fans, for film people. It was early on when we were editing the film. So I'm asking people questions afterwards, and as a joke I asked, "So who here is now in favor of burning down churches?" I expected to get a laugh, but instead got half the audience raising their hands.
M: He certainly has the gift of persuasion.
AA: I think he does, and I think it's kind of a shame because maybe if circumstances would have been different, I honestly feel he had the potential to do a lot of great things, actually.
M: What interview, scene, or segment was your favorite part of the movie? It seems like everything you did with Gylve was fun.
AA: I guess I would say the best part was meeting him and becoming friends with him. But several of the shoots were really . . . the closing scene in the film where it's [an] art opening in Milan and Frost [Satyricon] is setting fire to the gallery? That was a trip. I was bungie-corded to the celling with a gas mask shooting it from above. The audience that was there, I didn't know how they were going to react. It really surprised me the way they did react, because even more so than I think you can tell from watching the film, he really was setting fire to the walls of that place. I expected the people there to be less calm, but they all seemed to have this idea that, "Oh, this is really well planned out. I'm sure it's all safe." That was a really bizarre, memorable shoot, obviously. I've never really been part of a shoot like that where the inside of the room you're shooting is on fire.
SCARY STUFF: It's October. Halloween is in October. Halloween is metal. To celebrate, I asked a few folks to name their favorite horror flick of all time, back it up in just a few sentences, and pick a second-placer.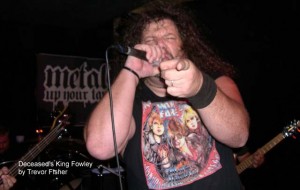 King Fowley, Deceased: Phantasm – From its claustrophobic setting to its odd family "bonding" to its great evil character in The Tall Man! The soundtrack is perfection. And its got that weird '70s look to it. It just freaks me out. The ultimate odd/weird/scary dream! Runner Up: The Exorcist.
Rev. JR Preston, Bloodcult: The Bride Of Frankenstein – Made in the '30s and still holds up today, great story and fantastic special effects. It is celluloid perfection. Runner up: A tie between original Halloween and the Japanese flick Tomie.
Chris Avgerin, Blood Of The Tyrant/Heaving Mass: The Texas Chainsaw Massacre – I remember seeing this film at a sleepover when I was about 10-years old. I had to go home I was so scared. Insanely uncomfortable scenes (that seem to never end) coupled with grainy footage, odd clangs and rumbles used as a "soundtrack," and a feeling of realism (as opposed to fantasy) make this the most terrifying horror movie I've ever seen.
MOSH-WORTHY LIVE: Nachtmystium (Reggie's, 10/2); High On Fire, Kylesa, Torche (Metro, 10/10); Triptykon, Yakuza (Bottom Lounge, 10/16); The Sword (Metro, 10/23); Cealed Kasket (Reggie's, 10/30).
— Trevor Fisher
Category: Caught In A Mosh, Columns, Monthly