Three's Company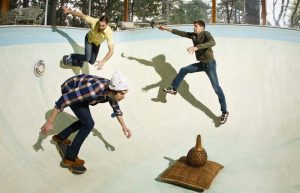 Justin Harris would like to take this moment to clarify some things about his band. The shorthand on the new Menomena record, Mines (Barsuk), concerns an outfit on the brink – three men at the end of their respective ropes with each other and the tense batch of songs documenting the turmoil. Harris more or less disputes this charge, chalking any rough-going up to normal human relations and dismissing a reference to "brutal disagreements" in their press materials as "a bit of an exaggeration."
Appearing: September 25th at Metro in Chicago.
"We do have our moments, for sure," he says, "but, like most relationships over a long period of time, I don't think we [remember] well enough how to communicate with each other. The hardest part for us as a band is all trying to be on the same page at the same time. We go through stages where one or two of us will be super-excited and the other's doing something else – it kind of moves around like that. Once touring ends, it takes a while for us to get on the same page."
There's also this bit, definitely self-perpetuated, that the band, as a concept, is bionic, or at the very least silicon-based. Depending on the article you read, all their music results from a Digital Looping Recorder (DLR or "Deeler") that runs a program stemming from an old school project, or the Deeler just gets passed around when the trio are scrounging for ideas.
"It's somewhat of a misunderstood concept in our band," Harris explains. "Most people keep writing about it, but it's not used in the writing/recording aspect of the actual albums. We do these little jam sessions when we practice and filter through stuff that catches our attention at the time that [we like]. I know in whatever I've read that seems to be this focal point. It's misinformation, typically."
So there you have it: Menomena – normal rock band.
Puh-leeze.
What makes the band such a bunch of farging weirdos is the utopian egalitarianism that's become a forced/reviled dynamic, where each member demands fierce loyalty of the others while following his own creative whims. And the DLR might not be HAL 9000 or even Hal David, but it can't be denied that Menomena's relationship with technology is central to their very being. The intensity with which they use it requires everyone remain tethered and focused – an issue when Harris' mates Brent Knopf and Danny Seim (each member sings; Knopf and Harris dabble in keys and guitars while Seim generally manages the percussion) both record solo projects, which delayed Mines incalculably.
"It's not ideal," he says, "but at the same time it's better than the alternative of a big, monster Menomena where you can't do any other projects. I think there's a high level of understanding among all of us. But this is our bread-and-butter, so to speak, and why these solo projects [garner] awareness."
— Steve Forstneger
To find out how it turned out, grab the September issue of Illinois Entertainer, available free throughout Chicagoland.