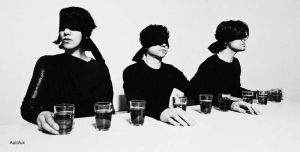 Drugs, blood, and rock 'n' roll: It's your weekly Friday preview!
Former Deadboy & The Elephantman frontman Dax Riggs nearly achieves the above trifecta on this summer's Say Goodnight To The World (Fat Possum), though the cannibal clowns on the album cover never quite break skin. Oh, well. Riggs has clearly researched the mechanics of controlled substances and pop music for his second solo effort, which helps counterbalance his career-spanning ruminations on death. The title track opens the occasion with a languid groove and static blues-metal riff, reimagining Ted Nugent's "Stranglehold" as a Jesus & Mary Chain dirge. From there, he digs through a post-Woodstock, Haight-Asbury malaise on "I Hear Satan" and sprinkles some Donovan-esque, English countryside folk on "You Were Born To Be My Gallows." The whole album, save the punkish "No One Will Be A Stranger," is as if Kris Kristofferson's "Sunday Morning Coming Down" has been distended into "Tuesday Afternoon And This Shit Still Hasn't Worn Off." (@Empty Bottle with Brighton, MA and Mark Trecka.)
It's almost shameful to have taken this long to come to such a realization, but The Sadies' closest stylistic companions aren't Calexico or Giant Sand. No, on Darker Circles (Yep Roc), brothers Dallas and Travis Good call to mind another coupla bruddas: The Meat Puppets. Granted, The Sadies are missing those crisp, left-field harmonies and use more than their fair share of reverb, but the guitar-led Southwestern boogie they share is distinct. That said, great swaths of Darker Circles could be sung by The Sadies usual employer, Neko Case, but when on their own they're much closer to early rock 'n' roll than the carpetbagging alt-country crew. (@Schubas with Jon Langford & Sally Timms; a previously scheduled encore on Saturday the 21st has been canceled.)
— Steve Forstneger
Almost six years after its debut Future Perfect (DMZ), Autolux return with more mind-meltingly gorgeous noise pop on Transit Transit (TBD). In a live setting, the angular, metallic drone tone of Greg Edwards' guitars shimmer with brittle rawness, and Carla Azar's swinging beats thump with a sweaty, off-kilter glee. After playing a rough-and-tumble set at The Empty Bottle back in September, the crew returns, and sounds tighter and more comfortable with the new material. "The Science Of Imaginary Solutions" and "Supertoys" have become crowd-pleasing favorites, and after such a long hiatus, even the old songs will sound new again.
Hailing from Texas, and playing epic, instrumental post-rock, comparisons to Explosions In The Sky are unavoidable (and not entirely inaccurate), but opener This Will Destroy You has always had an ambient edge and more ornate sense of bliss than many of it similarly styled peers, including EITS. TWDY pushes those tendencies even further on its latest, Tunnel Blanket (Magic Bullet); compositions stretch out languorously, as reverb-soaked drones and simple note phrases pace slowly back and forth, and sense of quiet renewal and deliberation underscore these tracks. Fans expecting more of the quiet/loud/quiet/TOTAL DESTRUCTION! formula will likely be disappointed in this new direction, but there is no shortage of bands still recycling that decade-old formula, and it's refreshing to see alternative approaches to extracting emotion from instrumental interplay and dynamic constructions. Plus, in a live setting, there will still be plenty of concussion-inducing blasts, as abused pedal boxes are stomped through the floor and thrashing guitars are hammered into oblivion. (@Bottom Lounge with Allá.)

— Patrick Conlan
Category: Featured, Stage Buzz, Weekly