Ravinia, Highland Park
Sunday, July 18, 2010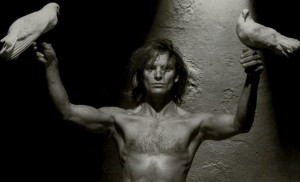 Ever since Sting first left The Police in 1985, his career's taken several unexpected twists, many of which have soared and a handful that have sunk. No matter the public's reception level, the singer's certainly been unpredictable, from his early jazz origins to a more straightforward pop/rock flavoring throughout the '90s and early 2000s to a previously unlikely band reunion, lute album, and Christmas collection in the last half decade.
These days the never-routine singer's hooking up with the Royal Philharmonic Concert Orchestra on a tour supporting his latest disc, Symphonicities (Deutsche Grammophon), which was initially inspired during a low-key benefit gig with the Chicago Symphony Orchestra. It was only fitting to find the 58-year-old (who's still looking exceptionally suave and slender, if not a bit smug) bringing the concept home, performing at the especially fitting Ravinia Festival given his merger of the pop and classical disciplines during the second of two sold-out shows.
Though it's easy to criticize Sting for technically not releasing a regular studio CD since 2003's Sacred Love, the two-act, almost three-hour evening was far from paint-by-numbers nostalgia. Sure, there was a barrage of huge hits, like "If I Ever Lose My Faith In You" and "Every Little Thing She Does Is Magic," but the orchestral environment also gave the performer a chance to dig deep into the annals for rarely performed album cuts.
On a more traditional rock band tour, chances are he'd never touch the serene "When We Dance" or the soaring, string-entrenched "Russians," nor would he have transformed the country swinger "I Hung My Head" into a cinematic undertaking. Though the ballad "Why Should I Cry For You?" stuck to more traditional arrangements, others were enhanced by the symphonic additions, mainly "Roxanne," which stripped away the original reggae undertones in favor of an understated approach.
Not everything Sting reworked turned to gold, including the moody "Moon Over Bourbon Street," which found the headliner foolishly donning a vampire's cape to drive home the eerie premise. One of The Police's most aggressive cuts, "Next To You," felt forced into the orchestra's formula and came across as mere cacophony, while "Every Breath You Take" wasn't anything special (other than sounding thicker).
However, the format lent kindly to the lustfully romantic "Mad About You," the Middle Eastern-inspired "Desert Rose," and the acoustic simplicity of "Fragile." On the whole, Sting's symphonic showcasing allowed his material to be recast in a refreshing, age-appropriate light that also pointed out how his astute song craftsmanship could translate to just about any style.
-Andy Argyrakis
Category: Featured, Live Reviews, Weekly