First Midwest, Tinley Park
Saturday, July17, 2010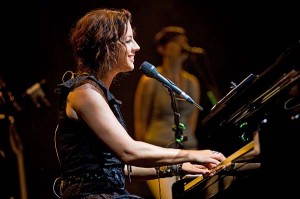 Sarah McLachlan's 2010 version of Lilith Fair arrived in Chicago carrying some heavy baggage, having already canceled over a dozen of the 35 showcases scheduled for other cities. A few days before the tour hit the First Midwest Bank Amphitheatre in suburban Tinley Park, it was announced that Kelly Clarkson and Cat Power were no longer on board, and by the time the gates opened for the concert on July 17th, alternative rockers La Roux had mysteriously vanished.
For a full Lilith Fair photo gallery, visit illinoisentertainerphoto.com.
Navigating the layout at the Amphitheatre took some getting used to since it wasn't immediately clear that the ABC Stage area and the Village Stage area were mirror images of each other, separated by the Main Stage. Still, the last-minute schedule changes and the venue's confusing logistics didn't dampen the spirits of those in attendance. The predominantly female crowd, seemed to embrace McLachlan's concept of celebrating women artists, which had sparked Lilith Fair's successful run from 1997 through 1999. Plus, there was plenty of good music from headliners McLachlan, Mary J. Blige, Heart, Court Yard Hounds, and Kate Nash.
Performers at the smaller stages proved to be entertaining as well. Meaghan Smith's acoustic-based music had a swinging, old-time feel, and the highly energetic Vita Chambers continually engaged her audience while performing covers of hip-hop artists, as well as her own material. Vedera was more effective when lead vocalist Kristen May strapped on her guitar than when she sat at the keyboards, but all of the band's atmospheric rock tunes had a cosmopolitan flair. Singer/guitarist Melissa McClelland's blues-flavored originals were reminiscent of Bonnie Raitt. Her band, which included her husband, was joined at one point by McLachlan. Katie Todd, winner of the OurStage contest to spotlight local talent, came across as exuberant and confident as she sang and played keyboards with her band on the Village Stage.
"It's such a blast being here!" she exclaimed toward the end of a set that featured her original catchy pop tunes. Later it was easy to imagine her excitement as she shared a table with McLachlan, Court Yard Hounds/Dixie Chicks members Emily Robison and Martie Maguire, Nash, McClelland, and Vedera frontwoman May. 
Most of the questions at the press conference were addressed to McLachlan, and on a few occasions, she gracefully invited the others at the table to participate. McLachlan responded to a reporter's inquiry about La Roux's absence by explaining that singer Elly Jackson was ill.
Early activity on the Main Stage was well-received, if sparsely attended. It started at 5:50 with a freewheeling set by British singer Nash, whose flowing dress made her look like she was wrapped in a black-and-white flag. Her off-kilter approach to pop aligns her with Tori Amos and Lily Allen, and a few of her more energetic songs captured the intensity of vintage punk rock. Court Yard Hounds, an offshoot of Dixie Chicks, featured the tight harmonies of sisters Robison and Maguire, backed by a full band. They served up a series of country & western/rock hybrids that included the hit, "Ain't No Son," and a spirited instrumental with Robison and Maguire blazing away on banjo on fiddle, respectively.
Heart's Ann Wilson belted out a number of big hits with a voice as potent as at any point in the band's career. The opening number, "Barracuda," immediately brought the crowd to its feet, and Heart held that enthusiasm throughout a set that included guitarist Nancy Wilson's sky-high kick at the beginning of "Crazy On You." New material from the upcoming Red Velvet Car (Legacy), especially an energetic rock song titled "WTF," showed definite promise for Heart's return to the recording scene. It was dark by the time Mary J. Blige entered to a sci-fi fanfare, and the crowd had grown much larger. Blige, accompanied by a full band and four backup singers, had everyone on their feet and dancing throughout a set of original R&B hits and rousing covers of U2's "One" and Led Zeppelin's "Stairway To Heaven." Various large screens around the Main Stage gave an up-close look at the emotion Blige brings to her performance.
McLachlan glided through a selection of her best known songs, with McClelland as one of her backup singers. The majestic "Angel" got her set off to an impressive start, and McLachlan also introduced songs from her first CD in seven years, Laws Of Illusion (Arista).
A short finale followed McLachlan's set, with the headliners joining her on the final song of an impressive day's worth of music by female artists. Despite the pitfalls, Lilith Fair had succeeded in its mission.
— Terrence Flamm
Category: Featured, Live Reviews, Weekly