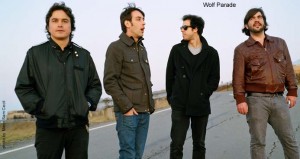 Before you head down to Union Park, don't forget the pre-party on Thursday night at Bottom Lounge with Neon Indian, Dam-Funk, and El-P, where tricked-out Toyotas rule and you can win a Prius! (Plus pick up your tickets early). Also, check out Pitchfork editor Tyler Grisham's festival mix. And now for some chats with the bands:
audio player
Powered By Baeblemusic
FRIDAY
BROKEN SOCIAL SCENE
Even for folks who don't know them, the more apt question about Broken Social Scene isn't "Who are they?" but "Who aren't?" If the cameos on indie-rock albums have come to rival a G-Unit release, then Broken Social Scene have all the cohesiveness of a NOW compilation.
"We definitely did not try to keep the guest list to a minimum," says Brendan Canning of BSS' Forgiveness Rock Record. "In fact, it expanded more on this record."
Why people haven't protested is their ability to sound like the work of only a few. "It's not so much an open door, but there's certain tunes where we say, 'It'd be great to get some horn players,' or we were in the studio with Leslie [Feist], Emily [Haines, Metric], and Amy [Millan, Stars] one night and played them one of the tunes we thought all of them could do a vocal on. All the songs have these funny little paths they take. It's half the fun of being in the band, I guess."
SATURDAY
WOLF PARADE
Boxing Day is probably as close as any American can come to a date of Canadian historical significance – and it isn't even something of their provenance. Others among our northern neighbors might mark notable hockey events – the '72 Soviet Summit Series, the '02 and '10 Olympics – but as far as Wolf Parade are concerned, the 1986 Columbian Exposition in Vancouver was where it was at.
"It's always kind of been a bit of a running joke in the band," says Spencer Krug, "that that's where we met and where we formed the band. Which is, of course, not true, but we were all there. I think most people I know in my generation were there. It defines us, more than anything, if you can remember Expo '86. If you were a Canadian, you were there. It was a big deal."
The resultant album – the Montreal-based band's third for Sub Pop – does less to honor arbitrary, national unity than the fluid nature of bands and generations. "It's in reference to the joke, but also a nod/tribute to the five-person band. Dante [DeCaro] wasn't part of the first record and now Hadji [Bakara] has left for the third record. I think part of it was to honor the idea of that five-part friendship, its fruition and existence."
Beyond that, Expo '86 is Wolf Parade vaulting into that young-band promised land: the third album. "I think we've reached the point where you can trust that if we enjoyed playing and writing it," Krug says, "then there's enough people out there who get where we're coming from they'll find something in it to enjoy. Or at least understand why they don't like it. There's no more mystery. There's not gonna be an unveiling of a whole new sound or anything like that. We're doing what we do. We took a year off, and came back with a renewed energy. We're excited to just be in the same room again and see each other as friends as well as bandmates."
NETHERFRIENDS
If you see Shawn Rosenblatt from Netherfriends before Pitchfork Fest, it would be kind to remind him of the schedule.
"Our EP came out in July [2009], but it was like a soft release and the official release was in September," he recalls. "I was working with a different publicity company and there was some miscommunication – and they never knew we were releasing an EP."
And that's not the end of it. "Every release I've done – a 7-inch and an EP now – and I've had problems with both of them. I think I jinxed myself. I always said I hate the idea of 'blowing up,' or 'you're making it.' I don't like those concepts. I like the idea of the slow burn."
File that under "What You Wish For, Careful." Chicago-based Netherfriends (though currently homeless) have a full-length coming this summer, and the orchestral-pop release will mirror '60s Brian Wilson in more ways than one (ahem, paranoia). "I never really – I know it sounds silly," he says, "but I don't think that far ahead. I just want to stay busy. I think staying busy prevents me from thinking about, 'Whoa, what's happening right now? Where should I be right now?' Everyone wants to get to a certain level of doing what they love for a living. But it's hard to do that. I gave up my apartment, just living off nothing right now. And I really don't think the full-length's going to do anything. I'm almost O.K. with that. I don't have any expectations, I'm pretty sure – like we're playing the Pitchfork festival – I'm pretty sure Pitchfork's not going to review it [on its site]. They haven't done anything else; I don't know why they'd review this."
SUNDAY
PAVEMENT
This year's Pavement reunion isn't a big deal, it turns out. Even before the 10-year lapse, a reunion happened every 12 months.
"Kind of, yeah," says Scott "Sprial Stairs" Kannberg. "That's how it felt for years, and the last record was like, 'Oh, well, I guess we'll see ya.' And it took 10 years to get back together." Today, however, there's that nagging demand for new music. "I think everybody kind of wanted [the reunion] to happen, but was busy doing what they were doing. I think if music wasn't at a place where people kind of regarded Pavement as something special, I think it would've taken longer to get back together. I think for the last 10 years, it's weird how Pavement has become a much bigger band than we were in the old days. People stop you and say they were a fan of your band or influenced by your band, I think that helped get us back together."
This isn't the Eagles however, and greed would be an incentive for only the most deluded. "I think what we did could only have happened when it did," he says. "We came from the kind of weird, punk-rock/indie scene of the '80s and – of people who are starting or in bands who are popular now I don't know what their influences really are – but it doesn't seem as weird as what we came up through."
So you've been out weirding things up? "We're not 24-years-old anymore where you've got all this energy to go off and do things," Kannberg laughs. "It's just kind of sad. I was in Prague, and I didn't go anywhere because I kind of felt sick and tired. It was surreal. I was surrounded by this ancient city, and I'm in my hotel room paying bills."
BIG BOI
Modern tabloidism's lack of authoritativeness had us still thinking Outkast actually broke up. Not so. Even better, Antawn "Big Boi" Patton has a whole cabinet of guns about to go off.
"I'm actually still recording now – helping [Andre 3000] get some songs for his record, as well as the Outkast record that we're gonna do. And, at the same time, work on my next record. Once you press that button down, you want to stay in it. If you stay away from it too long, you spend time trying to get back in the groove of things. I'm in a hotspot right now. You gotta keep recording, keep putting your ideas down."
The early 2000s were exciting times with Outkast's Stankonia followed by the everywhere Speakerboxxx/The Love Below. But soon tensions were reported, and the Idlewild film/soundtrack seemed to signal the end. Turns out only the record-label suits were his problem.
"Album's turned in," he says, "everything, all the credits are in. Now's time to roll it out." Boi's Sir Luscious Left Foot: The Sun Of Chico Dusty stands as the long-awaited return in the saga of one of hip-hop's most beloved and ambitious groups, the only change has been time – a well-documented adversary.
"I worked on it for like 40 months," Boi frets. "It's actually been done a year ago, but in the time that I had I added two more [tracks] to it. I saw masters last week on Andre 3000's birthday – shit just feels good."
So if everything's copacetic, what took so long?"It was getting on a record label that understands my music. That was the biggest thing. There were so many stops and starts. Being on Jive Records, they told me they didn't know how to market it. But I thought music was an artform – we weren't seeing eye-to-eye creatively on it. They wanted cookie-cutter songs, and I don't make music that way. We were at La Face for our entire careers, the [BMG/Sony] merger happens and now it's like we're in a whole new system with people who don't know us, haven't been there, and don't understand what it means to make music. It's basically a pop, boy-band label – they had N'Sync and everything over at Jive – they weren't used to the funk flavor we had."
It makes you worry about how he survived. "I was listening to Neil Young, Isley Brothers, Bob Marley – Kate Bush, of course. Geto Boys, UGK. My iPod Shuffle is a lot of great music and not that weakass radio." Fair enough.
ST. VINCENT
Annie Clark has a new espresso machine, and it could put the future of St. Vincent in peril.
"This espresso maker is making things so possible," she proffers, unflinchingly. "I don't know if you drink coffee, but I would invest in one." Ultimately, that last line is a lot like the endorsements attached to her latest album, The Actor (4AD). You might not like pop music, but this . . . this is something else.
In the male-dominated world of ambitious indie rock, Clark isn't much of a rebel, but stands out nonetheless. Seeing her open for John Vanderslice years ago on tour was like witnessing Dick Van Dyke in Mary Poppins– only completely serious.
"Um," she laughs, "my approach to playing live then was pretty helter skelter. I'm pretty nuts-and-bolts, like I wasn't sure – I'm a gear nerd, so I thought 'I have all this cool gear and I'll bring all of it. I'll bring every single last piece. Maybe I'll run my guitar through two amps and see how that . . .'" Since then it has been high-brow galas and performances, not the least of which netted an audience with David Byrne.
"We're not sure how it'd be released or what," she says, kind of embarrassed that she brought it up, "I'm really excited about it. He's a really generous guy, just in terms of creative spirit. He gives a lot, and people respond to that. He un-self-consciously just goes for it, and that's amazing. Any time you turn around, he's writing a book, he's writing a musical. I don't know him very well, but just in my interaction with him he seems to be a very pure, creative person."
But only Clark knows the secrets of java.
CAVE
Though Pitchfork is based in Chicago and fétés itself every year, the festival has never oozed a local flavor. Its fifth incarnation boasts only three local bands (Allá, Netherfriends, and Cave), one of which trembles in fear at the circumstances.
"Pitchfork is not something we think about or even talk about," writes Cave's Cooper Crain, via e-mail. The recent Drag City signing boasts little as far as released, creative output, which probably suits the Web site's festival curators just fine.
"The EP [Pure Moods] was made with a member who left the band and we felt we wanted to record the remaining tracks/ideas before we parted," he says. "It turned out to be enough for an EP and we decided that is what it should be."
That sounds like plans for a farewell, not a modern outfit anticipating its wide-open future. "We had been playing around with those tracks for a couple months [and] are still playing most of the EP today at shows."
— Steve Forstneger
Category: Featured, Stage Buzz, Weekly