The Jon Spencer Blues Explosion
Reissues (Majordomo)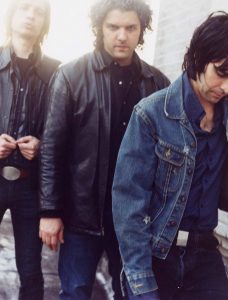 Prior to the band's comeback at Pitchfork fest this weekend, Majordomo/Shout Factory dropped a load of JSBX tracks in our laps and ran.
I've often dreamed about the day my daughter will adjust my pillows, slide my food tray/stand thingy over to the window, and ask, "Daddy, tell me about the Jon Spencer Blues Explosion." I won't have to say a word (good thing, because I've lost the capacity for speech), and I'll dump four sets of CDs in her hands comprising 145 tracks and let her sort it out.
The best (well, not the best) part is they've included the best-possible line: "No one in their right mind would ever think there is a career in making music like this."
And as reissue campaigns go, this one's just as unlikely and difficult. The JSBX had been stinking up the New York underground since Pussy Galore quit, around 1991. But when Majordomo started this madness, it first released the Dirty Shirt Rock 'N' Roll career compilation in late March.
It was a nice primer for the summer tour, but then we were handed 1996's Now I Got Worry and the European live album Controversial Negro — curious selections because the anniversary math didn't add up and 1994's Orange was actually their breakthrough album. Then came a bonanza: Year One, a compendium including all the tracks that made up the band's early recordings (A Reverse Willie Horton, The Jon Spencer Blues Explosion, Crypt Style, History Of Sex), and a two-disc version of Extra Width featuring the Mo' Width companion and 24 bonus cuts. To quote P.G. Wodehouse, at first they are excitingly challenging and rewardingly mind-blowing, but soon you realize you haven't got a clue what's going on, are stabbing hopelessly in the dark, and want your mommy.
We'll attempt to sort this into chronological order. The most crucial piece of business is Year One. Even during the JSBX's Matador heyday, these albums/EPs were hard to find and pricey bets ($17.99 back in the day) for ramshackle outings known more for their dicey sound quality than the beginning of something great. But, gussied up and remastered, the songs do help shape the controversy surrounding the band at the time. Spencer took a lot of heat and racism charges for essentially alleging that the blues was simply tossed-off garbage (38 cuts in 72 minutes) that he could howl over like Elvis (white devil who stole rock 'n' roll) on meth to a punk beat. And listening to it, yes, that's what it sounds like. What's striking is how much more competent guitarist Judah Bauer and drummer Russell Simins sound than they used to (credit the remaster). Opener "Twenty Nine" refreshes itself among the band's always-spectacular first tracks, while the reckless "Rachel" improbably stays together throughout its 2:24. While the liners reveal "Support A Man" to be a plea from Spencer to his future father-in-law, it actually comes off as a precursor to "Wail!" (just as "Like A Hawk" would resurface in "Blues X Man"). "Maynard Ave." remains a lightning rod for his critics, though the closing quintet exposes the Blues Explosion's most aggravating art-school (fuck the "damaged" part; this is pure entitlement) tendencies.
You can forgive Majordomo some of the chronology issues because Extra Width is no cut-and-dried case. Paired with the Australian-only Mo' Width EP and a rash of singles and etc., the recording was all over the place. Taken at face value, Mo' appears to have been recorded first, though Extra is clearly the definitive version of these songs. And that's where the separation has been created in the BX catalog. Before, it was all about pressing "record" and capturing whatever. Extra Width was going to be an album, with sounds (specifically '70s) being tested and discarded or accepted and . . . they were going to try.
Unleashing a basketful of what-ifs, the album presents Jon Spencer in such a form that if there were ever going to be a "return to," this was it. The talismanic track remains "Afro" and its nuclear guitar solo, but the Latin percussion in "Pant Leg" exhibits a debt to garage rock and "Train #2" lays the foundation for their future fascination with grooves (and hip-hop). Hyperaware of their more-sanitized environs, Spencer transparently sings out of tune when he can and sometimes laughably tries transferring his stage persona to the record — something that would explode in cartoon proportions for Orange — but the devil is in the details, and their attention to the sonics this time (opposed to the concept) would bear fruit in the years to come. For its part, Mo' Width errs on the side of Extra despite the harmonica wail of "Johnson" and a throwaway deconstruction of Webb Pierce's "There Stands The Glass."
The "Mo' Mo' Width" odds disc represents their primal noise-rock side's last stand (until Now I Got Worry), a generally forgettable addendum that features a handful of key cuts like a kiss-off to their former label ("Caroline"), an early version of "Brenda," and some jump-blues Xmas cuts that would make Brian Setzer shit his drawers.
Which brings us to Now I Got Worry. For historical context, this was their make-or-break moment. Alt-rock had become a viable commodity by '96, Matador was in Capitol Records' sights, and the band were handed a budget for the "Wail!" vid, for which they chose Weird Al Yankovic as director. Spencer clearly had no intention of aiding his label's merger, opening the disc with the abrasive "Skank" and "Identify" — even though "Wail!" comes third, it takes three more tracks then to get back to accessibility with "Chicken Dog." An argument can be made that here is the salad days of their punk-blues/studio-maven concoction — others might dispute it as an identity crisis. The 12 bonus cuts (the others are radio promotions) only underscore the second hypothesis, with "Chocolate Joe," "Dig My Shit," and "Roosevelt Hotel Blues" standing up.
Controversial Negro is, well — live albums rarely do justice and this set continues that tradition.
— Steve Forstneger