Memorial Day Weekend Preview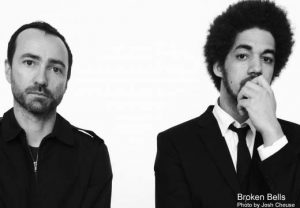 If you've been saving up all your rockin' in May, now's the time to let it out. Especially because we have a new issue out Tuesday.
Friday, May 28
If it seems like Abbey Pub has an unusual amount of bands playing, that's because no one doesn't want to turn out for the Rockin' For Vets Health benefit. Organized by DFT Events to raise money for the Chicagoland Veterans Affairs Hospital, you can't ask more of your $10 than a show that kicks off at 5 p.m. and throws you 10 bands, including Anxiety High, Donkey Punch, Ideamen, and Stuck Underwater . . . Shannon Curfman was one of the first musicians I interviewed in college, and now she's old enough to have finished college herself. The blues guitarist has also grown up some, if she hadn't it's doubtful Buddy Guy's would have drafted her to play one of the final shows the first show in the soon-to-be "old" new location . . . If you melt to the somber tones of Swedish nylon-folkie José González, take a chance on countryman The Tallest Man On Earth (Kristian Matsson) at Lincoln Hall. An equally accomplished acoustic guitarist, Matsson's lyrics reveal uncommon depth and passion for someone who wasn't born in an English-speaking country. The "new Dylan" tags betray his confident melodies, and also ignore the fact he's really singing rock 'n' roll.
Saturday, May 29
(Don't forget to watch your Blackhawks!) If you're already at Summercamp Festival in Peoria satellite Chillicothe, you're a safe distance from Metal Up Your Tap's second-anniversary show at Red Line Tap. And it's not strictly because IE's "Caught In A Mosh" columnist Trevor Fisher, who books it, can't bite the heads off passing Christians. While the sight of drunken longhairs trying to keep up with Heavy Metal Karaoke Massacre never fails to surpass expectations, Fisher's also lined up a dumptruck-heavy local showcase with Arriver, Nethervoid, and Acumen Nation offshoot Czar . . . The 2010 version of Andre Williams isn't your father's AW, much less he of two years ago when Can You Deal With It? became one of the raunchiest albums — musically and lyrically — a septagenerian has ever released. Out of rehab and the hospital, That's All I Need (Bloodshot) isn't too heavy on reflection or redemption, but certainly sits down and rests. That's fine because Williams — a veteran of Chess and Motown — gets even better looks at bad drugs, bad women, and bad, bad Andre Williams. His Schubas set is opened by Dirty Diamonds.
Sunday, May 30
The big drinking night — "It's Sunday and I don't have to work tomorrow!" — is split between old hands who want to enjoy the night (Waco Brothers at Double Door; Eleventh Dream Day at Hideout), and three about-to-topple-from-overpacking shows at Reggie's, Schubas, and Subterranean. The Reggie's shindig is a battle of the bands — remember those? — pitted by Gorilla Productions and kicking off at 4 p.m. . . . Schubas hosts a different kind of memorial, this for Asian Pacific Heritage Month. The roster includes pop acts alongside more traditional islander music, and even a small stage production . . . Meanwhile SubT posts a classic punk bill on its door, headlined by Teen Idols and brimming with 147 other bands.
Monday, May 31
You made it! There's another 'Hawks game to take in, and then head to the Vic. Danger Mouse wears a lot of teams' jerseys these days (he might be in one of those Subterranean bands), but Monday hopefully he remembers the one with the Broken Bells logo — The Shins' James Mercer would appreciate it, as that's the side-project they've formed. Because DM rose to fame by mashing The Beatles "White Album" and Jay-Z's The Black Album, folks seem to think he's a hip-hop DJ. Gnarls Barkley, his other most-popular outfit, isn't rap, and his work with The Black Keys and others proves him to be more of a pop savant. It's with that in mind that he comes to dominate Broken Bells' self-titled debut. Mercer has his snuggly indie-pop moments, but from Prince-ish standout single "The Ghost Inside" to bright ("Your Head Is On Fire") and pitch-black ("October") psychedelia, this is the time we finally get to know the one man.
— Steve Forstneger
Category: Featured, Stage Buzz, Weekly