Lincoln Hall, Chicago
Tuesday, May 18, 2010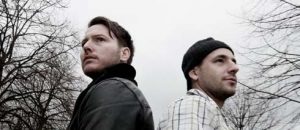 Like that awful joke about large people and mopeds, Turin Brakes are great to sing along to until your friends pop in.
Olly Knights and Gale Paridjanian are not brothers, but harmonize so intuitively it wouldn't be out of line to assume one of their mothers grabbed another baby on the way home from the hospital. Their fifth album, Outbursts (Cooking Vinyl), once again features their androgynous, woven vocals, but comes — like the album cover — with cloud cover. The waltzing "Paper Heart" tries not to come apart while opener "Sea Change" laments suffocating, worldwide pressure. The disquiet manifests itself in "Radio Silence," which explodes in a shower of sparks. It can be very dramatic and self-serious — "Six million backs against the wall" is the first line you hear — but stranger games have been played by two brothers locked in a room.
David Singer opens.
— Steve Forstneger
Category: Stage Buzz, Weekly