Lincoln Hall, Chicago
Saturday, May 15, 2010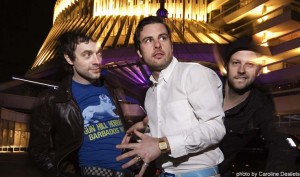 The faces of anger in rock 'n' roll are legion — polemics, posturing, and power chords among them — but for their second album, Plants & Animals go with passive aggressive.
Like Big Star's Third, an air about La La Land (Secret City) suggests not all is well in camp P&A. It's doubtful the album's recording sessions will grow in legend as they did for Alex Chilton, who could only watch as his world collapsed, but openers "Tom Cruz," "Swinging Bells," and "American Idol" — the latter pair originally written as a single song — clinically demonstrate how to create an angsty mood without making a meal of it. The band's debut had more of a post-Arcade Fire folk-jam about it, which makes this switch equally satisfying. Even more pleasurable is it doesn't last. Too many bands fall in love with darkness and overstay their welcomes, while Plants & Animals — perhaps 'cuz of their Dudley Do-Right Canadian heritage? — whip out "Kon Tiki" and the smell of the sea. Unlike a certain Seinfeldian adventure, the sea is not angry today.
Elliott Brood opens.
— Steve Forstneger
Click here to download "Tom Cruz."
Category: Stage Buzz, Weekly