Double Door, Chicago
Wednesday, May 19, 2010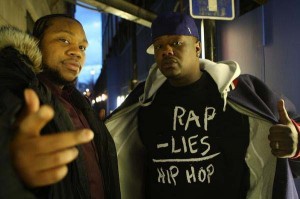 As disappointing as Little Brother's impending break-up may be, this revered, North Carolinan hip-hop duo is not going out on a bad note with its final album LeftBack — they just know when to call it quits.
 
After eight years in the game, LB still delivers music that speaks to both the lyric-conscious listener and those just craving a smoothed out take on hip-hop. And these past three years MCs Phonte and Rapper Big Pooh have been marching forward without star producer 9th Wonder, who left the group in early 2007.
 
For a finale, LeftBack sees Little Brother close the book on the group respectably, not by breaking new ground but by fine-tuning its trademark material – particularly the relationship song ("Table For Two") and lyrical workouts ("Revenge").
 
The thing is, with Phonte heavily focused on his Grammy-nominated soul group The Foreign Exchange and Big Pooh thinking about further solo endeavors, they are letting go of Little Brother before the movement goes stale. Given their dedication to the craft, the split isn't likely to lead to a lackluster tour either. It's not often that MCs can get a crowd to nod their heads one moment and then do a two-step the next, but that's all part of the LB magnetism.
 
Pugs Atomz and 1773 opens.
— Max Herman
Category: Stage Buzz, Weekly