Aragon, Chicago
Saturday, April 10, 2010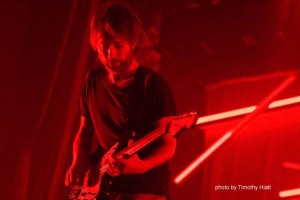 It's not unusual for musicians to moonlight when an opportunity presents itself. Thing is, for every so called supergroup that finds a genesis in the curiosity of what could be, very few achieve the critical or commercial success of, say, Blind Faith or The Traveling Wilburys. More often than not, they are relegated to footnote territory containing names like The Firm and Power Station.
Yet, in spite of said challenge, there was Thom Yorke — lead singer for the hugely successful band Radiohead — fronting just such an animal during the first of two sold-out engagements at the Aragon Ballroom.
Billing themselves as Atoms For Peace, the brief tour has afforded Yorke an opportunity to revisit his 2006 solo effort The Eraser, which was performed in its entirety. The metamorphosis of the material from tape to live setting was nothing short of astounding.
That album's title track started out politely enough with Yorke plucking out delicate piano chords. But soon his band swelled up behind him. Flea (on loan from the currently idle Red Hot Chili Peppers) met every one of his elastic bass lines with body language that would make a Slinky jealous. And underneath him, drummer Joey Waronker (who has sat behind the kit for R.E.M. and Beck) dropped stuttering fills that gave heretofore unseen heft to the song's spacious atmospherics.
In fact, it was the rhythm section that was the glue and the MVP throughout the performance. The duo took the almost anorexic foundations on "And It Rained All Night," "Analyze," and "Harrowdown Hill" and ingested them with bodybuilder might. This allowed a canvass for Yorke and Nigel Godrich (longtime Radiohead producer) to splay guitar blasts and keyboard burps, respectively, over looping, computer-generated soundscapes.
And when he wasn't squeezing sounds from his guitar or an upright piano, Yorke was more animated than ever. He shimmied and seizured as if taken over by the dance-party backdrop his quintet kept dropping on him, working a sort of drug-fueled jig minus any actual contraband.
Although the evening's biggest reception came during a run through Radiohead's "Everything In Its Right Place," the real prize here was watching this group of musicians slowly feeling each other out and managing to create something quite remarkable in the short time they've spent together. Although there's probably no danger of them eclipsing the success of Yorke's "other band," on this night they sure sounded like grizzled veterans that could make a go of it.
DJ Flying Lotus opened the show with an able, unassuming mash-up of beats and laptop generated anthems. The notoriously fickle acoustics of the cavernous Aragon quickly swallowed any of the subtleties in his set. More frustrating was the fact that during Atoms For Peace's performance the sound was surprisingly great, inferring that the DJ's set might have actually been better than it sounded.
— Curt Baran
Category: Live Reviews, Weekly