Vic Theatre, Chicago
Friday, April 9, 2010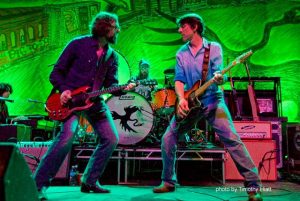 Chicago is a special place for Drive-By Truckers. The band still talk about the lift they felt by a line outside Hideout back when nobody else cared they were making records.
So it stands to reason the Alabama-born, Athens-based Southern rockers can trust their audience when the Windy City skyline announces itself through the bus windshield. The veteran outfit — this spring's The Big To-Do (ATO) is their eighth LP — have never shied from stacking setlists with new material and this was an extreme example. All of the octet of To-Do's representatives arrived in the first third of a two-and-a-half-hour performance, making the Vic a little antsy as it nervously awaited old-school scraps.
They would come, though Patterson Hood omitted his usual banter — which often goes a long way explaining songs. About those tracks, To-Do is as lyrically solid as any DBT record and might be among their best in that regard, but musically it's missing some of the guitar muscle that makes Southern Rock Opera, Decoration Day, and The Dirty South so overpowering. The band has also grown a mite stately in its presentation, rendering it considerably more able to pull off Shonna Tucker's Tin Pan Alley "I Told You So" than scorch the front row with "Drag The Lake Charlie," the latter of which was not played. "Birthday Boy" in particular lost something in the album-to-stage transfer.
Towards the end of the middle third, fans' trust was repaid handsomely. A swaggering version of the Stonesy "Marry Me" was followed by a testy "Puttin' People On The Moon." A nearly uncharacteristic dollop of Southern Rock Opera was on display, consigning much of the first two albums, South, Decoration, Blessing And A Curse, and Brighter Than Creation's Dark all to the dustbin. One day the band will return to deliver a mammoth hits set, or so their trusting fans hope.
— Steve Forstneger
Category: Live Reviews, Weekly