Truly Local – And Scrappy, Too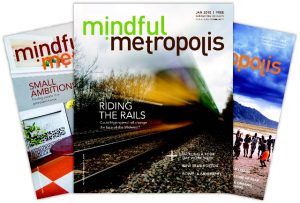 When Conscious Choice published its final issue last April, its employees refused to let the dream die.
Instead, they started Mindful Metropolis magazine, a free, monthly glossy that marks its first anniversary this month. Not only is the magazine still around, but it's also owned by the employees.
"We simply saw no other viable options," says publisher and CEO Richard McGinnis. "We were freed from corporate tyranny, which meant we finally had control of our own editorial content, and we could truly be local. All we thought about at the time was Chicago needed a voice for its conscious community. We had the relationships with the writers, clients, and other organizations. It seemed there was no alternative but to keep publishing a magazine."
It wasn't always easy, since they had just 30 days to start a magazine from scratch. "We had no infrastructure, we had no database, and all of our equipment had been removed and shipped to Colorado. The issue was May 2009, and we had an agreement with the Green Festival to provide their print marketing. We also had a booth space at the event, so we glued together our first issue with the assistance of loyal advertisers and an ad hoc creative team."
McGinnis, who wore several hats during his seven years at Conscious Choice — including group publisher — says things were far from ideal in its waning days. "Conscious Choice had an evolution of editorial pillars that kept moving farther and farther away from the community concept. In the end, much of the content was unrecognizable as local since most of the editorial decisions were being made out of California.
"Mindful Metropolis is about sustainable community. Everything we write about has significance in regard to what it means to operate harmoniously in our personal/social networks: the food we eat; the places we live; what we do with our refuse; what nurtures us spiritually and physically; what benefits us politically; the lake, the river, the buildings, the restaurants, all the way down to the paint we use and all the way up to the person we strive to become. Mindful Metropolis is about the relationship to ourselves and those we touch."
But don't call them green.
"To us, green is a single facet — a thing that one does. It is a thing one is motivated to do for larger reasons. Our mission is the reasons."
They're also doing a MindfuLive!, a multi-dimensional series of events where "readers can interact with advertisers in a social setting" — a sort of "reception space mini-trade fair/networking event." Funkadesi will play at the 2010 Mindful Readers Choice Awards and Green Carpet Gala on May 21st, where Green Festival and Global Exchange founder Kevin Danaher will speak, and ABC-7's Hosea Sanders will MC. More at www.mindfulmetropolis.com
"As we move on, we are working on a media collective," says McGinnis. "In order to maintain strength and integrity in Chicago's conscious community, we realize that print alone does not reach all the places that need our resources. In addition to improving our online capabilities, we have teamed up with a progressive, mission-specific media company to provide video, and we are working on collaborations for radio as well as other forms of targeted digital media."
Musicians may send review submissions to Mindful Metropolis editorial director James Faber, 2020 N. California, Ste7 #165, Chicago, IL 60647.
ETC: Six months after its launch last fall, the Chicago News Cooperative is still going strong as a news organization, with an online presence and a handful of stories in each Friday and Sunday's New York Times. With the tagline "committed to public service, reported by journalists, guided by members," and financed by grants, CNC has been sharing facilities and resources with financially strained public- television station WTTW-Channel 11. Headed by former Chicago Tribune managing editor and former editor of the Los Angeles Times James O'Shea, they've already had plenty of scoops — including City Hall reporter Dan Mihalopoulos' exclusive story on Mayor Daley and the City Council's creativity with furlough days. There's also coverage of sports and the arts — including James Warren's recent story about a North Side social-service agency's successful program for at-risk youth, which includes dance, graffiti arts, poetry, rap, and music. For the latest, go to chicagonewscoop.org . . . We haven't seen the monthly print edition of The Chicago Current, but at press time the Web site's sparse postings were dominated by stories from political reporter Adrian Uribarri and Cook County reporter Alex Parker (it's comforting to know that there's at least one reporter keeping an eye on the caretakers of its $3.5 billion budget). The news, politics, and public-affairs journal is aimed at the city's public-affairs community and calls itself "Chicago's Place For Politics." It's headed by former Tribune reporter Geoff Dougherty, who folded his nonprofit Chi-Town Daily News last fall to launch for-profit CC last November. Visit www.chicagocurrent.com.
— Cara Jepsen