Taylor
Dave Matthews Signature Guitar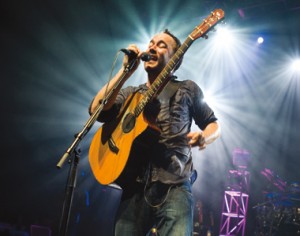 As a longtime Taylor Guitars devotee, Dave Matthews used his 914ce to write music that would shape a new generation of jam bands that still inspires new converts today. With an eye on the future, Taylor has collaborated with Matthews and released the Dave Matthews Signature Model guitar that also honors his fallen bandmate. The DMSM is based on Matthews' trusty 914ce, a model he says "has a really genuine, wonderful acoustic sound" and "is consistent . . . and on top of that, the guitar itself is really beautiful. I'll just go to it no matter what." Both back and sides are crafted from Indian rosewood combined with Sitka spruce; the DMSM is highlighted by abalone inlays, derived from Matthews' own hand-sketched designs that honor late saxophonist LeRoi Moore. On the ebony fretboard at the 12th fret, a crown with one of its tips partially missing notes Moore's absence from the band. In another of Matthews' touches, the word "Grux" – a nickname of Moore's that is also honored in the album title Big Whiskey And The Groo Grux King – is inlaid between the 13th and 18th frets. Matthews also contributed a twisting, vine-like design to the ebony peghead. The signature edition also features Taylor's exclusive CV bracing with a tone-enhancing relief rout and comes stage-ready with the company's own Expression System. As a high-end guitar, premium attributes include Ivoroid binding on the body, fretboard, and peghead, a bone nut and saddle, Gotoh 510 antique tuners, as well as an interior label and certificate of authenticity personally signed by Matthews. The Dave Matthews Signature Model joins many of the Taylor guitars already in the frontman's collection, including the 914ce, 856ce, 714ce, and W65. It's now available at authorized domestic and international Taylor dealers for a suggested $5,428. For more details visit www.taylorguitars.com.
Korg
SOS Multitrack Recorder
Korg is taking its penchant for handy portable recorders to another level with the release of the Sound On Sound (SOS) multitrack recorder, which provides onboard rhythms, effects, and an infinite number of overdubs for making creative recordings. Its built-in speaker and an internal stereo mic tlet the user capture and review recordings instantly, without the need for any additional amps or speakers. SOS features include unlimited undo/ redo, loop recording, Sound Stretch (which adjusts the playback speed without changing the pitch), plus 100 hardwired effects that enhance user recordings with a wide range of selectable instruments. Getting started is easy: Users can track new songs with 50 preset rhythm patterns covering a broad variety of styles, and save up to 200 songs in Wav format. What Korg calls "high-performance guitar, bass, and chromatic tuners" are also built in. SOS can record up to 10 hours on a pair of AA batteries, using 44.1 kHz/16-bit resolution; recordings are saved onto microSD or microSDHC cards. Please check out www.korg.com for demos and more.
News & Notes
Congrats to our friends Tobias Music in Downers Grove on a big honor: They've been recognized as the largest Taylor Guitar dealer in Illinois, and the sixth-largest independent Taylor dealer in the world. Cheers to Paul, Ken, and family . . . The Texas Guitar Show is back in May at the DuPage Expo Center on the 15th and 16th, while the Rebeats Drum Show is also held the same weekend at the Kane County Fairgrounds. Check www.illinoisentertainer.com for details and updates.
— David Gedge