Don't Sweat The Technique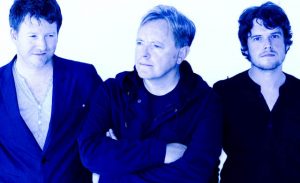 The odds of a band breaking big are astronomical enough, but what are the chances it will happen twice let alone three or perhaps even four times for the same artist under different incarnations? Bernard Sumner — Joy Division guitarist, New Order frontman, Electronic co-captain, and Bad Lieutenant principle — might have an idea, though he'll be the first to shake off any exact science and simply suggest it's an insatiable creative drive that causes him to regroup every time an insurmountable obstacle occurs.
Appearing: Monday, April 19 at Park West in Chicago.
"I've been cleaning out the past — even though I'm still playing some songs from the past — and I gave the ego a spring clean out," he says on the phone from his Manchester home. "It's just fun being with these guys [Bad Lieutenant] creatively and, with two guitarists, there are a lot of ideas out there. In the early days of New Order, it was me doing the guitar, keyboards, and vocals, but now the chemistry's changed and there's more input from more people. I'm not saying I wrote everything in New Order because I didn't, but being in Bad Lieutenant's reduced my workload and freed me up to work more on vocals."
His co-conspirators on the group's debut, Never Cry Another Tear (Triple Echo), are a mixture of fresh and familiar faces, starting with newcomer vocalist Jake Evans, later New Order guitarist Phil Cunningham, and Joy Division/New Order drummer Stephen Morris (for live shows only). While the connections to latter pair are obvious, Evans' story is just as curious as it is unconventional.
"He's a friend of Phil's and we met at a birthday party," Sumner offers. "Jake forgot to buy a present, so he got up in the middle of a restaurant and sang Neil Young's 'Heart Of Gold' to make up for it when the [main bar singer] went to the bathroom. I was pretty blown away, because besides being a great rendition, it took a lot of balls to do that and I made a mental note. Then when I went into writing for Bad Lieutenant, even though there was no band name at the time, I invited Jake to the sessions."
In theory, those electronically tipped Britpop sketches could've wound up on New Order's next record, but as space and time passed following 2005's Waiting For The Sirens' Call, it was clear to Sumner that a follow-up was out of the question. "The quick version is we were together for a very long time and Peter [Hook] didn't want to work with us anymore and he left," he reveals. "We weren't getting on, and since you sometimes see group members more than your wife or girlfriend, it's imperative to get on together. We had different points of view and senses of humor by that time and didn't see eye to eye, so there's no point carrying on."
Nonetheless, Bad Lieutenant will keep the group's spirit alive on a spring tour (rescheduled from last fall due to visa problems), performing some of New Order's electronic smashes in honor of its 30th anniversary, along with plenty of current cuts. The setlist is also expected to uncover some Joy Division treasures and possibly a nod to Sumner's partnership with The Smiths' guitarist Johnny Marr in Electronic. "They'll be a couple of surprises really and obviously we want to showcase the Bad Lieutenant album, Never Cry Another Tear, we've just written," he echoes. "But we realize people want to hear the old songs and we'll play some of them — though not all of them."
In other words, don't expect a mere nostalgia trip. Though he refuses to rest on his laurels, the singer/songwriter is open to discussing yesterday as a means to trace his journey, which, considering he began in Joy Division, has rather seminal beginnings. Ask any band on the brooding alt-rock circuit (including but not limited to The Killers, Interpol, Editors, and She Wants Revenge), and chances are the act lands at the top of their influence list.
"I'm flattered by it and I'm glad people remember," assures Sumner. "I also remember back myself to when I was a 21-year-old musician in Joy Division and we had the records we were influenced by in the rehearsal room, like Iggy Pop, The Velvet Underground, and Kraftwerk. I don't think any musician writes brilliant music from a vacuum and I'm glad people have chosen us. There's a value to our music and it's nice to be remembered."
Not only has the group been championed by fellow artists, but the film community as well, resulting in the recent Control biopic (which focuses on late frontman Ian Curtis) alongside the band-centered Joy Division. "I've seen Control several times and it's a very accurate picture of what happened," he confirms. "I was obviously not there to see all the things that happened to Ian [privately], but the portrayal was very accurate and very moving, although I can't pretend to say it was pleasant going into the cinema and watching all that again. It was a hard time for all of us and not something I want to relive over and over . . . I haven't watched the documentary yet because it came out at the painful time of New Order's split. I wanted to get away from all things New Order at the time and make a clean cut with an imaginary pair of scissors to start thinking about the future, though I'm sure I'll see it some day."
Now that Sumner's centered around Bad Lieutenant, he's far enough removed from New Order's difficulties to cherish the group's many milestones, which included 1983's "Blue Monday" becoming one of the most massive dance-pop crossovers in history (and the best-selling 12-inch single of all time), followed by 1986's "Bizarre Love Triangle," establishing the English act as full-blown American superstars.
"The audiences we played to in the States were enthusiastic and fantastic and it was just amazing playing to 25,0000 people a night who know your songs," Sumner reminisces. "If only I could've gone straight to bed and been a good boy instead of staying out partying!"
The success continued through the early 1990s, which saw the group penning the World Cup anthem "World In Motion" and continuing to blaze up both the dance and alternative-rock charts thanks to "Regret" and "Ruined In A Day." "Though our music started as a rock band in Joy Division and was fairly unique [the surviving members who formed New Order] were more interested in electronic music because of our exposure to clubs throughout Europe and America. The '80s were more electronic and some would say more commercial, but then the guitars came back in with grunge [in the '90s] and that movement made [New Order] sound more like the music we made in Joy Division.
"But it's always been a funny process making music with New Order in the studio, because of so many egotistical problems when one says 'black' and the other says 'white' to the point that producers served more as politicians that took the shit. I'm sure it happens to a lot of bands, but it grinds you down. We still managed to write pretty good songs, but it was like a battlefield."
— Andy Argyrakis
For the full story, grab the April issue of Illinois Entertainer, available free throughout Chicagoland.