Reggie's Rock House, Chicago
Tuesday, March 16, 2010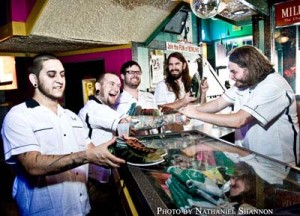 Although The Black Dahlia Murder has generally been described as a blend of melodic death meal with a heavy European black metal influence, the emphasis has been on traditional blast beats and rapid-fire riffs.
On its latest Deflorate (Metal Blade), however, the Waterford, Michigan quintet punctuates its brutally aggressive sound with stronger, brighter melodic strains. "Necropolis" and "A Selection Unnatural" highlight the dark complexity and twisted lyrical morbidity. Don't expect the pummeling live show to be any less torturous, though. Drummer Shannon Lucas drives the rhythms with metronomic precision, as he pounds his kit with kinetic fury and relentless energy, and equally astonishing is witnessing vocalist Trevor Strnad shift his voice upside down from a guttural growl to searing, raspy howl in a flip of syllable. With an impressive history of festival appearances, TBDM has honed its live sound to mammoth, gut-wrenching proportions, so this is special opportunity to see it in an intimate club venue.
Obscura, Augury, and Hatesphere open.
— Patrick Conlan
Category: Stage Buzz, Weekly