JBTV Studios, Chicago
Tuesday, March 9, 2010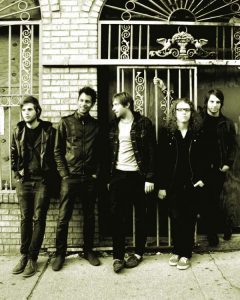 When treated as concerts, televised band performances can be a mixed bag. It would be all too easy for artists to treat such a venture as little more than a promotional exercise, one that doesn't "count" and ends up more phoned-in than anything. Which is what made last night's Empires event all the more exciting, as the Chicago act was clearly playing for keeps at its "JBTV" soundstage event.
Performing behind the group's just-released Bang EP, Empires took to a surprisingly plush studio stage, flanked by red curtains and blue backdrops, to deliver an impression-making seven songs. While Chicago has no shortage of guitar-driven rock acts, the group's set last night proved Empires make use of warm tones in their songs the way few bands do, evident in the nocturnal and buzzing "Spit The Dark." By comparison, other selections proved far more frenzied, seen in frontman Sean Van Vleet leading a fiery rendition of the band's new EP's title track.
Yet for all the group's impressive guitar work throughout the soundstage set, it was drummer Ryan Luciani who proved to be the outfit's not-so-secret weapon, a man possessed during "Bang," while noticeably enhancing "I Want Blood" off 2008's Howl. Between the strength of the group's new material and the fire in their bellies even performing for a crowd 50 taping attendees, Empires stand poised to make big moves in 2010. With passion like this, it could very well happen.
— Jaime de'Medici
Category: Live Reviews, Weekly