Congress Theater, Chicago
Friday, March 12, 2010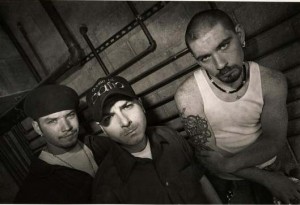 This will make you feel old: It's been 18 years since House Of Pain's "Jump Around" was a hit single. Eighteen years. Seriously! (It's been 13 since Notorious B.I.G. was killed!)  So who cares about a HOP reunion now? This guy.
I still remember the day I bought Same As It Ever Was. I was staying with a friend at his grandmother's in Oskaloosa, Iowa. Osky – for short – is a stinking cesspit of teenage despair in south-eastern Iowa. The only things for kids to do is fuck, fight, drink, smoke, swim, and go to the mall. Even so, that was a significant improvement over my hometown, as we had no shopping mall. Or outdoor pool, come to think of it. Anyway, it was a horrible three days of overflowing colostomy bags, bad breath, worse body odor, and detasseling corn. It was that Oskaloosa mall, though, where I bought Everlast, Danny Boy, and DJ Lethal's second record, an album that, to this day, gets a fuckload of play in the Fisher home.
That home, if you wondered, is a luxurious – people tell me – four-bedroom, 3.5-bath condo in that building Oprah lives in. Winfrey's more into HOP's self-titled debut (we chat music while waiting for our drivers to bring the cars; Stedman only listens to "True Icelandic Black Metal" or some bullshit, she says) and probably for good reason: "Jump Around." Those bagpipe samples still get played in Pringles commercials and sports arenas every day, but the thing is, House Of Pain did have a career after that song. 1996's Truth Crushed To Earth Shall Rise Again was ignored by pretty much everybody (blame the awful title), but its predecessor, Same As It Ever Was, is certified gold, which defends the group against any one-album-wonder criticism. And of course, there's always the "white rapper" thing. Pre-Eminem, white dudes in hip-hop were like black dudes in hockey: few and far between. House Of Pain weren't the first caucasians to earn respect as "rappers" instead of "white rappers" (the Beasties, obviously), but alliances with Cypress Hill (Muggs produced HOP's first two albums), Ice-T (Everlast came up as a member of Rhyme Syndicate), Divine Styler, and Gang Starr helped it appeal to audiences outside fraternity row.
The past is the past, though. The whole point is House Of Pain has reunited (technically the real reunion was on last year's A Brand You Can Trust by La Coka Nostra, a hip-hop supergroup that includes all three HOPsters), and the 15-year-old Trevor, whose parents wouldn't let him see the HOP/Cypress Hill/Funkdoobiest tour back in the day, will finally witness his favorite hip-hop group live in concert. I've already received my wife's permission, even.
La Coka Nostra, Gza, Mass Hysteria, and The Come Ups open.
– Trevor Fisher
Category: Stage Buzz, Weekly