Riviera, Chicago
Saturday, March 27, 2010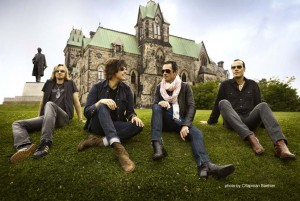 For all the alleged dysfunction, Stone Temple Pilots were quite prolific. For as continuously as the band have been mentioned in the last 10 years, they've been creatively dormant since 2001. For all the critical beatdowns they took, naysayers were nonetheless very interested.
This spring, San Diego's biggest grunge punching bag rekindle their 2008 reunion tour with a full album launch and trek. Beginning with some smaller gigs (this and last week's South By Southwest), the circus will undoubtedly unravel into a big-tent operation by midsummer, when fellow grunge dinosaurs Hole and Soundgarden will also roam the land. A self-titled record has been slated for May 25th on Atlantic (who sued them for it), which reportedly has Beatles overtones and some acoustic tracks.
My God. Have we gotten this far without mentioning Scott Weiland? The mercurial, engaging frontman has been quite busy for someone who was supposed to be dead by now: punching a clock in Velvet Revolver; pulling off a surprisingly digestible solo album with Happy In Galoshes. As usual, this whole bonanza will depend on his concentration and commitment. That he can perform and be a star is without question — whether he will . . .
— Steve Forstneger
Category: Stage Buzz, Weekly