Throbbin' 'Em Blind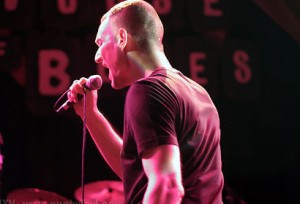 Legendary Chicago punk rockers Naked Raygun recorded at TRANSIENT SOUND STUDIOS in Chicago on March 19th. The band intend a slew of songs for release on their "7-inch Series" in 2010. The first single (their first recordings in 20 years) sold out quickly and the second will be released in vinyl and digital formats on June 15th. They'll also be filming a video for one of the new songs – look for it to arrive later this year. In late summer, Raygun descends on Europe and the U.K. – details will be announced shortly.
Easily the most influential band bursting forth from the initial Chicago punk-rock explosion, Naked Raygun also hold the distinction of being the longest running. When many of their peers were either breaking up or going metal in the mid-to-late 1980s, Naked Raygun soldiered on with their trademark sound, combining infectious vocal melodies with muscular guitar and a precision rhythm section. Echoes of the golden era of Raygun sound can be heard in punk rock circles worldwide.
The band broke up in 1992 and, save for a one-off reunion in 1997 to celebrate the release of the Last Of The Demohicans collection, stayed inactive while band members tended to family business and occasionally other musical projects such as The Bomb and Pegboy.
Naked Raygun return-ed to action by playing shows across the Mid-west and embarking on their first West Coast tour in a decade with Bay Area legends The Swingin' Utters. The band also released their first DVD via Riot Fest Records, entitled What Poor Gods We Do Make. The CD/DVD package combined a documentary covering the lifespan of the band with performances from their sold-out performance at Riot Fest 2006.
During a two-night stand at the House Of Blues, Raygun debuted their first new songs in 17 years. Met with a reaction of surprise and elation from the slam-dancing crowd, both songs embody the classic Chicago Sound" that Naked Raygun first defined more than 20 years ago.
At Gravity Studios in Chicago, former Spitalfield frontman Mark Rose recently tracked two new songs with producer/engineer Matt Opal. Selling more than 130,000 albums worldwide with Spitalfield from 1998-2007, Rose is no stranger to the road, having taken the stage over 1,400 times – hitting nine countries over three continents. Rose also took the time to make a video blog about the experience available to view on the Gravity Web site. You can catch him live at Bottom Lounge on April 9th . . . Engineer Doug McBride finished mastering the Million Dollar Quartet album.
At Studiomedia in Evanston, The Chicago Sessions jazz record label produced multiple projects . . . Renowned recording artist Judy Roberts laid songs for an upcoming album . . . Ozzie Guillen did White Sox voice spots for their upcoming Championship season.
At Planet 10 STUDIOS in Palatine, Garaj Mahal, Owl Records, and Moog have collaborated to release a full length CD on which Fareed Haque played the Moog guitar and Eric Levy delivered on its iconic synths. Moog documented the proceedings with video that will be placed on its Web site.
At Pressure Point Recording in Chicago, Midwest Music Group's new artist, Mathien, has completed its new album. The record, Hello Again, was recorded, mixed, and mastered over the past few months. The album is out now and is available for online purchase and digital download.
Standby Radio tracked the When Signals Cross EP at Bz artistry studios in Libertyville with producer Brian Zaharias . . . Stranger In The Alps, Soft Speaker's latest EP, was split among Mike Lust at Phantom manor and Joe Daley at LOW ORBIT; mastering was handled by Carl Saff at SAFF MASTERING. All studios are in Chicago.
Category: Columns, Monthly, Studiophile