Schubas, Chicago
Friday, February 19, 2010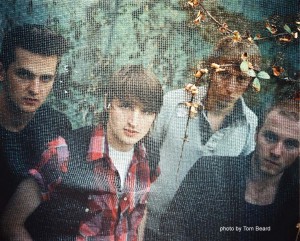 Looking back, Wild Beasts could have gotten away with about anything on their debut, Limbo, Panto (Domino). One unhinged instrument sounds even less controlled when the rest of the orchestra moves in time, so why not air them all out?
Now that we're familiar with this wobbly wheel, it's difficult to decide whether the English band's 2009 album, Two Dancers, really is much tamer or just not as freshly uncompromising as its elder. It's no Steve Tyrell cozy-cozy fest, but clearly decisions were made whereby vocalist Hayden Thorpe would be given less to flights (of fancy, of imminent disaster) and the band could forge an identity outside of his pseudo-operatic jaunts.Dancers feels like a drummer's album, as shifts and pacing dictate all that comes with it. With spacious, post-punk guitars and anchored basslines, it's the most satisfyingly trap-propelled indie-rock album since Interpol's Turn On The Bright Lights. Just with a really wacky frontman. And much better lyrics than "The subway is a porno."
Still Life Still open both nights.
— Steve Forstneger
Click here to download "All The King's Men."
Category: Stage Buzz, Weekly