Chicago Theatre, Chicago
Saturday, February 13, 2010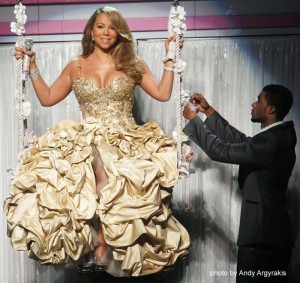 As someone who's accustomed to playing arenas, seeing Mariah Carey in a theater setting could either be interpreted as a rare, intimate treat for die-hards or an indication that she can't quite sell as many tickets anymore. Sure, two sold-out nights at the Chicago Theatre aren't anything to sneeze at, but considering she used to top out the United Center, it's certainly several-thousand fans shy of her 1990s peak.
Apparently though, Carey never got the memo this was supposed to be a smaller tour, as she descended from the ceiling on a swing, encircled by three male dancers who promptly removed the bottom portion of her ruffled gold dress. And with the skirt version of that same outfit, Carey strutted with sass throughout the pulsating beats of "Shake It Off" accompanied by a fleet of dancers, background singers, and band members on the double-decker platform and LCD screen that almost touched the venue's ceiling.
Across the next 100 minutes, several sides of the diva's personality came out, starting with the sleazy ("Touch My Body"), then the awkward transition to the spiritual ("Fly Like A Bird" and "Make It Happen"), to the booming balladeer ("Angels Cry," dedicated to Haiti). Right around that time, the singer quipped "I don't like these champagne glasses very much," living up to her difficult reputation, but apparently it wasn't enough of a problem to take some "splashes" of the sparkling drink.
Less than five minutes later, she called for her hair and make-up artists to come out for an emergency touch up, though Carey assured everyone she's a down-to-earth girl in real life and merely had to live up to her reputation. "If they're gonna call me a diva, I might as well act like one," she joked, inciting a hearty round of cheers that was taken even higher when kicking into the acoustic oldie "Always Be My Baby."
Clearly Carey's older songs earned the most feverish reception, while anything from her lackluster new album, Memoirs Of An Imperfect Angel (Island/Def Jam), was shrugged off with indifference. The booty ballad "The Impossible" was dedicated to husband Nick Cannon (who was apparently in attendance but never showed his face), though it was an absolutely predictable snore, while the clubby "Obsessed" sounded like self-parody.
Another error came in the decision to have background singer Trey Lorenz tip his hat to Michael Jackson via "Rock With You," which was fine, but a confusing choice considering he originally cut a cover of "I'll Be There" with Carey that they performed on the late King Of Pop's televised memorial service. At least she was much more clever when covering Diana Ross' "Love Hangover," mashed up with her own "Heartbreaker" in all its throwback-disco glory.
Countless costume changes later, Carey finally showed off her best asset (an unwavering voice), thanks the multiple-octave jumping "Emotions" and the comeback cut "We Belong Together." However it was the schmaltzy, if not her signature song "Hero" that truly showed off those sterling pipes, which even with ebbing popularity, is a quality that no one will ever be able to take away.
— Andy Argyrakis
Category: Live Reviews, Weekly