Lincoln Hall, Chicago
Monday, February 15, 2010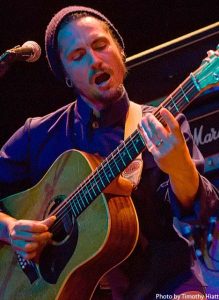 Those concerned by the inherent radio friendliness of "One Way Road" – the first single from the John Butler Trio's forthcoming album, April Uprising — can breathe easy. Using Monday night's sold-out show at Lincoln Hall as a gauge, the songs populating the band's fifth studio release retain Butler's unwavering positivity and mind-blowing dexterity on the guitar while appealing to those who fall just outside the jam-band circuit. 
The two hour show (the first Windy City stop since a main-stage appearance at Lollapalooza in 2008) served as both a sneak preview of Butler's latest compositions and an introduction to the band's revamped lineup after the departures of drummer Michael Barker and bassist Shannon Birchall. 
JBT 2.0 is a leaner, more focused machine. Obvious crowd favorites "Daniella" and "Zebra" still cause asses to shake and expand consciousnesses, but the solos don't meander. From the near-metal ending of "Treat Yo Mama" (if Twisted Sister incorporated the didgeridoo into its repertoire) to a hippie's version of Gregorian chant to close out "Better Man," the Australian trio self-edits to highlight the songwriting craft instead of getting off on hearing itself play.
Compared to the generic bounce of "One Way Road," new tune "Revolution" teeters between menace (thanks to drummer Nicky Bomba's mallet-heavy beats and Byron Luiters' galloping bass) and unsettling euphoria (courtesy of an underlying, high-pitched space odyssey loop created by Butler). "Johnny's Gone" keeps it strictly acoustic and political, accented by steel drum flourishes while "Ragged Mile" sounds like a banjo-infused distant cousin of Rusted Root's "Ecstasy."
Relieved of his lengthy dreadlocks and sporting a shorn 'do, Butler used the rare, intimate setting to pepper in stories about seeking permission from his future father-in-law for his daughter's hand in marriage and how the frigid Chicago temperatures nearly castrated him, while long-standing familiar elements remained in place from the epic solo instrumental "Ocean" to the all-encompassing group sing-along at the end of "Peaches & Cream."
A monumental "Funky Tonight" found all three members banging away on drums like regular cast members of "Stomp" and clearly enjoying each other's company based on the goofy grin plastered across Butler's face. The band makes a return engagement with a summer gig planned at the Riviera, which should expand this thinking-man's party.
— Janine Schaults
Category: Live Reviews, Weekly