Lincoln Hall, Chicago
Monday, February 22, 2010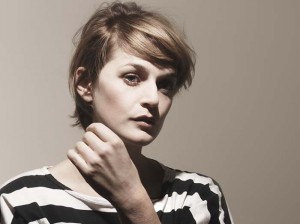 No one cares about it, but my love/hate affair with El Perro Del Mar's music has been documented on this site. Icy, repellant, a feast for Kate Bush fans — she's upsetting but compellingly sure of her direction.
El Perro, a.k.a. undernourished Swede Sarah Assbring, has made a career of being the polar opposite of any musician placed beside her. In 2008, this proclivity came to a hilt on tour with debutante Lykke Li, whose opening sets made like Abba warming up for a prison camp-famished Leonard Cohen. Her appearance coordinates with her output like a solid-color jacket liner, an androgynous form with the opaque emotionality of a German art film or Anton Chekhov play.
Now all bets are off. Last year's Love Is Not Pop (Control Group) doesn't wander too far from her Bush and later Talk Talk roots, but enough to inject a danceability and invite remixes to make it a gamebreaker. Though she still doesn't come out in the sunlight, the nightclub is a surprisingly natural fit for her (just as it is for Tracy Thorn). "Change Of Heart" might be the best non-club jam you didn't hear last year.
Taken By Trees opens.
— Steve Forstneger
Click here to download Robyn's "Change Of Heart" remix.
Category: Stage Buzz, Weekly