At The Threshold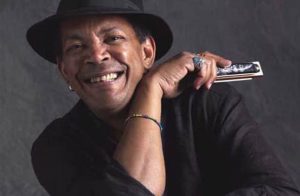 There was a time when Grammy-winning, blues harp master Sugar Blue believed there were only certain types of music appropriate for a blues musician to play. He came up listening to and being molded by icons like Memphis Slim, Muddy Waters, Willie Dixon, and Junior Wells. By the time he was in his late 20s, he had played with all these legends. The only kind of music he ever heard them play was straight-up blues. So that's all Blue really played. That is, until the release of his latest CD, Threshold (Beeble), which aptly represents his pushing through a musical break point.
"There was a time when I said, 'I can't play this kind of music, I'm a blues man!'" he says. "I sort of pigeonholed myself. I grew up in the old school. I was always a rock fan and a Motown fan. I'd listen to Smokey Robinson and say, 'I can't do that kind of stuff.' I was scared to venture out. The paintbrush hit me all over but when it came time to get to the canvas, it was only one hue, and that's blue." Even though he's appeared on classic Rolling Stones' albums Emotional Rescue and Tattoo You and played with jazz veteran Stan Getz, it never occurred to him to blend other genres into his blues. After decades of pumping out classic blues, Blue finally realized something. "Blues is the root and all the rest are the fruit, as Willie Dixon said so well. This is the time I decided to deal with the fruits," he declares. "I've come to a place where I'll dare to do anything."
That includes tackling love songs and elements of funk, rock, and jazz. Threshold is Blue's fifth release and stands as his most adventurous. The 11-track album features nine songs co-written by Blue and delivers a melodic demonstration of the various paths of the blues tradition. Backed by a tight band including noted guitarist Rico McFarland, Blue delivers a harp tour de force.
Opening with an uptempo tune with pop accents, "Living Your Love" sets the tone for the CD's adventurous focus. There's hot New Orleans funk on "Noel News," smooth jazz guitar licks on the James Cotton tribute "Cotton Tree," and a simmering ballad on "Tonight." But the highlight is the biting ant-war commentary "Stop The War." Opening with birds chirping and bombs exploding amid blistering guitar rhythms, the tune skillfully blends news commentary, Blue's sharp harp notes, and blistering, gospel-tinged backup vocals urging, "Stop the war/kill no more."
The anger floats through the lyrics and it's clear Blue wrote the song from personal experience. "I lost a lot of friends in the Viet Nam War," he says. "In this current war, I was playing at Rosa's and this young soldier, all of 18-years old, came in. He had just graduated and was pumped up about going to war. I could see beyond the bravado and I saw the fear in his eyes. His girlfriend came up to me and said, 'They're going to kill him, they're going to send home pieces of him,' and she started to cry. That really affected me. I thought, 'We have to work out a way to to solve our problems and not butcher each other.'"
Threshold showcases Blue's experimentation with progressive blues and its variations, but it also serves up hard driving, straight-ahead blues. "Ramblin," an old-fashioned instrumental, sizzles with an innovative harmonica duel between Blue and himself. The reverent Junior Wells cover "Messin' With The Kid," rollicks with the required amount of bravado.
Growing up with a mother who sang and danced at the legendary Apollo Theater and being surrounded by luminaries like Billie Holiday and Muddy Waters, Blue absorbed the necessary elements of becoming an accomplished musician at a young age. He devoted years to studying and playing with harp masters Big Walter Horton, Cotton, Carey Bell, and Wells. He is now generally considered one of the most accomplished blues harpists in the world, boasting fluidity, clarity of tone, and speed unlike any other. When asked about the difference between the old-school bluesman he worked with and new-millennium performers, he insists there's not much difference.
"The new millennium bluesman is very much like the old bluesman," he says. "Basically, you're talking about what you feel and what's going on around you. A bluesman is a descendent of the African griot. He has to take what's important and what's affecting us today and connect it to the future. Willie Dixon said that the most important part of a bluesman is the man. You can't understand the blues until you're a man. To be a blues man is to be a philosopher. You can't understand life until you've lived life. There's more to this music than the notes. It encompasses our humanity. That's why the blues has been able to produce so many disparate forms, from Charlie Parker to The Wailers. There's really nothing you can do that's new. You can only try to make your own kind of strew. The ingredients are the same, it just depends on the cook."
— Rosalind Cummings-Yeates
Category: Columns, Monthly, Sweet Home