When Young Was Restless: Reissues
(Reprise)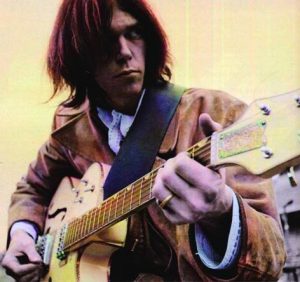 Even though it may not have been evident at first, in hindsight it's obvious that Neil Young would be Buffalo Springfield's breakout star. It's his songs – not Stephen Stills' or Jim Messina's or Richie Furay's – that eventually transcended their era. There's some hippie-dippy flower waving going on, especially in his earliest songs, but by the time the group recorded its second album, Young had rolled past his bandmates, lyrically and sonically.
So it's little surprise that Young's 1968 self-titled solo debut – one of four new remastered reissues and a previously unreleased live set from 1992 that's just now being released – sounds like a splintered Buffalo Springfield record. Filled mostly with folkie acoustic songs about youth and love, Neil Young (6) isn't the statement of purpose many first solo albums tend to be.
Young would make his real declaration of independence on 1969's Everybody Knows This Is Nowhere (10), an electric wave of guitar feedback and epic-length songs recorded with Crazy Horse (who get co-billing on the record), the backing band he'd use on some of his best albums though the years (including Tonight's The Night, Rust Never Sleeps, and Ragged Glory).
From the opening "Cinnamon Girl" to the 10-minute closer, "Cowgirl In The Sand," Everybody is Young's first classic and one of his best records, an album of unbridled intensity and feral playing. Highlight "Down By The River" includes the first of Young's many terrific guitar solos – a spiraling surge of pierced notes and breathtaking agility.
The following year's After The Gold Rush (9) is Young's paean to the '60s, a song cycle of crashed hopes (the title tune), sad passion ("Only Love Can Break Your Heart") and burning rage ("Southern Man"). There's some celebration – especially the giddy "When You Dance I Can Really Love" – but mostly Gold Rush sounds like a requiem for a decade defined by the large, and increasingly unmistakable, chasm between youthful dreams and ruthless reality. It's one of Young's gloomiest albums but a crucial piece of his catalog.
On his fourth LP, 1972's Harvest (7), Young chilled out and was rewarded with his only No. 1 album. Partly recorded in Nashville, Harvest is Young's first "country" record. It's also loaded with guest spots from part-time bandmates Crosby, Stills & Nash, Linda Ronstadt, and James Taylor. Stripped of Crazy Horse's fury, and mostly acoustic (with plenty of pedal steel guitar), Harvest contains some of Young's most popular songs, including "Heart Of Gold" (also a No. 1 hit) and "Old Man." But the solo concert recording of the anti-drug "The Needle And The Damage Done" is the record's most substantial track.
Young immediately planned a sequel to Harvest, but the album was shelved as he pursued other avenues over the years. He finally got around to recording Harvest Moon – a sort-of follow-up featuring many of the musicians who played on Harvest – in late 1992. The new Dreamin' Man Live '92 (6) gathers solo acoustic performances of Moon's 10 songs from a series of gigs played before the album's release. It's essentially an unplugged Moon, which is one of Young's most easygoing records anyway. Still, it offers an intimate portrait of an artist who's refused to settle into a single groove during his long career, as these five mostly terrific albums confirm.
— Michael Gallucci