Lincoln Hall, Chicago
Monday, February 1, 2010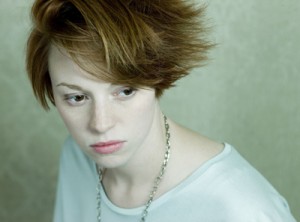 You could be excused for thinking there might be some sense of, if not outrage, mild resentment following the completion of La Roux's set Monday night at Lincoln Hall. The event served as the make-up date for a previously canceled concert in October and, judging by the obviously infatuated devotees tirelessly reaching for frontwoman Elly Jackson throughout the evening, it's safe to say the sold-out event was highly anticipated. Which is what made it all the more disappointing that the synth-pop sensation's set barely lasted 40 minutes.
Luckily for La Roux, the group's abridged appearance was overshadowed by its songs, especially apparent during the upbeat and melodic "Toy," during which Jackson bounded about and hopped in place onstage. "Quicksand," meanwhile, found Jackson dancing in sudden and jerky movements as the song's intensity spiked, culminating in the singer shouting out the obligatory city-checking call of "I'm in Chicago!" in place of the track's final lyrics. Unsurprisingly, "In For The Kill" not only whipped the room into a frenzy but served as a perfect venue to showcase Jackson's inimitable high-pitched (and occasionally piercing) wail. Even more somber arrangements like "Cover My Eyes" were granted an oversized delivery, while the more wounded "Colourless Colour" raised the evening's emotional stakes.
In a lot of ways, La Roux's Lincoln Hall make-up date delivered the high-energy, '80s-infused, Eurythmics-inspired set the group's Chicago fans have awaited since fall. It's just unfortunate the result of such a wait proved to be so brief.
— Jaime de'Medici
Category: Live Reviews, Weekly