The Venue, Hammond, IN
Wednesday, December 30, 2009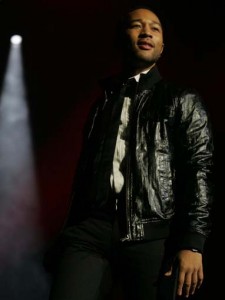 In just five years, John Legend's ascended from an underground neo-soul sensation to a full-fledged R&B star with a steadily expanding stable of introspective piano ballads and club romps. On a touring level, he has no trouble selling out sizeable theaters, which in the case of the relatively new Venue at Horseshoe Casino, was a spacious Las Vegas-styled showroom boasting one of Chicagoland's finest sound systems. The scene played to his advantage thanks to an ample amount of spectacle, fire powered by plenty of smooth grooves, pulsations, and occasional gyrations.
Flanked in a giant backdrop of himself, a glitzy disco ball, a trio of background singers, and seven-piece band, Legend strutted toward the stage from the back of the house to the beats of "Used To Love U." Across the next 100 minutes, the 31-year-old simultaneously juxtaposed the spirit of a showman with a socially conscious soul, splitting time between his three studio albums thus far: the Stevie Wonder-inspired Get Lifted, the coming of age Once Again, and his newest, synth-saturated Evolver.
Material from the first two projects held up best on stage, if only for the old-school inspiration (as opposed to slicker productions from his latest project) that also evoked golden era greats like Marvin Gaye and Al Green. "Satisfaction" and Michael Jackson's "Remember The Time" were sterling examples of horn-centered dusties, while "PDA (We Just Don't Care)" interspersed with Roberta Flack's "Feel Like Makin' Love" sauntered with romantic sophistication. "Live It Up" provided the most obvious throwback to the 1970s, while still retaining an notable range that unquestionably belonged to Legend.
Additional diversity came courtesy of the jazzy, bass rippling "Save Room," along with the semi-acoustic ballad "Everybody Knows" that escalated with fervor reminiscent of Motown's heyday. Of course, there was plenty of time to party, with the tone gradually escalating from those chunky, straight-up soul renderings to the unabashed dancer "Green Light." Though the track had no trouble lighting the crowd on fire, it made an awkward translation in concert giving its reliance on programmed beats and taped accompaniment from Andre 3000.
Nonetheless, Legend ended the night on his strongest side, with "Ordinary People" holding up as a career crest thanks to its clever turn of the typical relationship tale. Over solo piano simplicity, he told the saga of a struggling couple trying to sort out their differences, rather than instantly jumping ship when the first signs of trouble arise. "Stay With You" brought the full band back to contemplative contexts, unveiled a more traditional love story couched with the poetic persuasions of the aforementioned influences.
While it remains to be seen if Legend will steer more towards the dancefloor or R&B songwriter circuit, he's clearly gifted at crafting catchy tunes that don't come at the expense of watered down lyrical expressions. Even more impressive was his ability to communicate those heartfelt sentiments during a thoroughly engaging show that heralded his place as a Legend in the making.
— Andy Argyrakis
Category: Live Reviews, Weekly