Empty Bottle, Chicago
Friday, January 22, 2010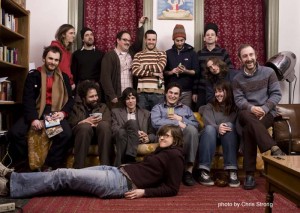 Even Tim Kinsella's many detractors must admit his Joan Of Arc has been progressive. Over the years, he has been the stem of a rapidly regenerating art-rock hydra, shuttling collaborators in and out to suit his unpredictable musical ambitions. And Friday night, they all come home to roost.
"Don't Mind Control" doubles as a concert and album for the band's 15th anniversary, to display the many fields from which Kinsella has drawn his 41 co-conspirators. Instead of regurgitating specimen JOA album tracks, the album allows both the familiar (brother Mike, whose industrious Owen threatens to out-proliferate JOA) and the old-school (Euphone and Ghosts & Vodka) to send postcards. Unfortunately there's no Cap'n Jazz reunion — the band from which Joan Of Arc and The Promise Ring sprang — and a number of projects clearly fell from the same tree, it'll be a welcome homecoming for one of Chicago's most endearingly provocative — if, at times, aggravatingly so — and enduring institutions.
A special Slick Conditions performance is also planned.
— Steve Forstneger
Category: Stage Buzz, Weekly