Riviera, Chicago
Wednesday, November 25, 2009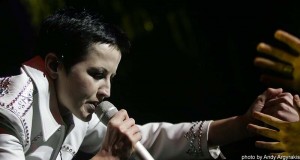 In one of alternative rock's more random reunion stories, The Cranberries were essentially dead and buried as frontwoman Dolores O'Riordan was pursuing a solo career. The decision was met with obvious sadness from band faithful, but her individual offerings were still greeted with a respectable amount of critical acclaim and fan carry over. In fact, it appeared as though O'Riordan was firing on all cylinders with the release of 2009's No Baggage and a fall tour, but no sooner than it was announced did she put on the brakes promising a special announcement would be forthcoming.
Fast forward a few months and The Cranberries are back together for the first time in seven years, touring in support of the singer's latest CD with no new unified offering, but a decade's worth of memorable, melodic pop nonetheless. And despite the haphazard and seemingly spontaneous reconvening, the Irish outfit pretty much picked up where 2001's Wake Up And Smell The Coffee left off.
At a just-shy of sold-out show, the group opened with the insistence of "How" and the additionally abrasive "Animal Instinct," proving early that time hadn't dulled their senses. The sweetly sung "Linger" time warped to 1993's landmark Everybody Else Is Doing It, So Why Can't We?, finding O'Riordan in fiery vocal form.
She stepped aside for some independence on "Ordinary Day" accompanied by the band, but given its similar alt-pop pretense and temperamental howls as The Cranberries' cuts, it could've fooled more casual listeners as having come from the band's catalog. The interplay between both career periods continued with the older attitude of "Just My Imagination" and "When You're Gone," earning more reception than O'Riordan's brand new "Switch Off The Moment," despite packing equal aggressive charm.
But the set hit a true stride when the group kicked up the amplification an extra notch, dusting off the fiercely infectious "Salvation" and even more incendiary "Zombie." A generous five-song encore followed, capping off with The Cranberries' most popular cut, "Dreams," which was hands-down O'Riordan's most spirited vocal performance of the 90-minute set.
As for guitarist Noel Hogan, bassist Michael Hogan, and drummer Fergal Lawler, they added an uplifting coat of fresh paint to the previous tunes and looked genuinely glad to be back. However, the true test will be if the magic remains on future studio material, which the band has yet to produce in their short time back together. Having O'Riordan's new solo tunes at least interjected some present tense purpose into the set list, but they won't be enough to cover up for an eight-year hiatus should the band add another tour to the books.
— Andy Argyrakis
Category: Live Reviews, Weekly