House Of Blues, Chicago
Wednesday, November 25, 2009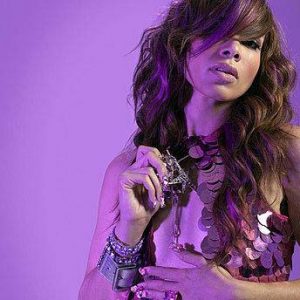 Though it shines through on record, it was last Wednesday's House Of Blues show that truly demonstrated Kid Sister's energy and versatility. As the opening electro shocks of "Right Hand Hi" announced her onstage arrival, the high-profile Chicago MC bounded out in a silver dress, a flash of hair and limbs, and announced her intention to "put a little hurtin'" on the assembled audience, and to do so "in some heels." It was a promise Kid Sister (Melisa Young) kept, straddling the line between showy stage diva with serious commitment to performance and theatrics, and cheeky ham, unable to mask or contain her enthusiasm for the hometown release show of her long-awaited debut, Ultraviolet.
Over an hour-long set, Young worked her way through Ultraviolet, proving especially exaggerated during "Step," wherein the rapper lied down onstage at the song's end, only to be brought back to life by her dancers for the start of "Big N Bad." Later, Young picked a surprisingly stage-ready 18-year-old out of the crowd for the deceptively non-suggestive "Let Me Bang 2009," during which time the teen caught on quickly, keeping in step with the fluid MC and even busting out some dance moves of his own. And while Ultraviolet may have just hit shelves, the crowd at House Of Blues proved well acquainted with Young's earlier work, as evident by the shout-alongs to "Pro Nails" and room-shaking response to "Control." ("So I take it you guys knew that one, right?" Young teased.) Even more impressive was the MC ditching her tall black lace-up heels, (themselves successors to earlier hot magenta heels), and busting out some frenzied footwork during "Switchboard."
Being a hometown show, Wednesday felt much like a family affair, especially with Young's brother Josh opening the show with his DJ outfit Flosstradamus (where he plays as J2K), and remaining onstage as his sister's backing MC. Joining him was Curt "Autobot" Cameruci, who DJ'd alongside J2K then stayed at the decks during Kid Sister's set. Yet the Chicago connection proved deeper when the trio was joined by none other than hometown house music icon Green Velvet, who contributed vocals while Cameruci spun "Shake And Pop." The DJ stayed and traded verses with Young through their recent collaboration "Everybody Wants," before exiting as J2K called him a "legend." By the time the rapper arrived at the melodic and breathy electro-pop of "Daydreaming," all bathed in ultraviolet light, it was clear this was no reverie. After all the false starts and the waiting, Kid Sister has finally arrived, bringing Ultraviolet's electro-pop and juke-laden hip-hop home — and she did it in some heels.
— Jaime de'Medici
Category: Live Reviews, Weekly