New York – Addis – London
(Strut)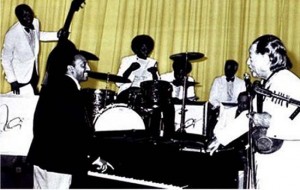 Fans of Jim Jarmusch's Broken Flowers might know Mulatu Astatke's spy jazz for the way it soundtracked Bill Murray's hunt.
Radically different from the heated, percussive, rave-ups of the West African jazz and rock that has swelled in visibility lately, Astatke, an Ethiopian and thus closer to Middle Eastern heritage, created a much more intrigue-filled brand. The renowned father of Ethio-jazz was actually trained in the U.K. and U.S. (hence this compilation's title), and seems to have been implicitly weaned on Henry Mancini's "Pink Panther" music. (While not nearly so slapstick, Murray's character was sleuthing not unlike Clouseau.) New York – Addis – London, a largely instrumental affair, does tend to overplay its lurking tones with a particular riff repeated throughout, though it does cause you to dive deep and get tangled in the reefs of percussion and lockstep guitar-and-organ melodies. Acting as poles on this compilation, you feel how easily Astatke's stock-in-trade fits beneath the Arab vocal style of Tilahoun Gessesse for "Lantchi Biye," while "Wubit," with the female Muluken Melesse, pulsates like tribal J.B.'s funk. A couple of Latin detours (the tango-based "Girl From Addis Ababa" or "I Faram Gami I Faram" and Cuban "Asiyo Belema") don't reveal much; the signature "Mulatu" and "Yegelle Tezeta" are the best place to find this international man of mystery.
8
— Steve Forstneger