Reggie's, Chicago
Thursday, December 10, 2009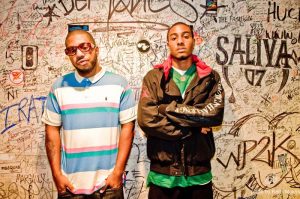 In their rise to indie-rap fame, part of The Cool Kids' image has been about a certain swagger, topped with an air of nonchalance. But live, especially at this capacity Reggie's show, Chuck Inglish and Mikey Rocks were actually having fun.
 
When the duo's producer-on-the-mic Inglish announced that amid a weird year for The Cool Kids that this show has been one of their best, the Chicago crowd certainly seemed appreciative. Inglish continued to say with a grin on his face that he was genuinely having a good time — without being drunk or high. Mikey Rocks wasn't quite as expressive, but whether he and Inglish were giving a preview of songs from their upcoming When Fish Ride Bicycles, getting laidback with mixtape cuts from Gone Fishing, or returning to their original lo-tech throwback style of "88," they both looked right at home on the concrete stage.
 
Sure, The Cool Kids could have easily sold out a much larger venue — especially considering respected Down South rhymer Bun B of UGK and local Kanye West affiliate GLC shared the bill. Yet the small capacity only helped make this night feel more unique. Minus a small scuffle, which Inglish stopped the show to break up, the night was full of moments worthy of referencing back to.
 
GLC lit up the stage with the video game-sampled single like "I Ain't Even On Yet" and of course evoked cheers by dropping his verse from West's cruising anthem "Drive Slow." Seeing the thunderous Bun B run through his solo material and UGK hits like the "Int'l Players Anthem," was even more of a rarity in such an intimate venue. With a diamond-encrusted nameplate hanging off his neck, Bun stomped around the stage, solidifying his "G" status, even when rapping alongside the much less threatening Cool Kids for the remix of "Pennies." And Bun almost stole the show when the sampled Middle Eastern wind instruments kicked in and he dropped his verse from Jay-Z's "Big Pimpin'."
 
Bun B didn't seem salty at all about The Cool Kids being the headliner. In fact, he could be seen at the side of stage bobbing his head. In possibly their longest set to date, this duo, with occasional assistance from Bronx-bred vocalist Tennille, revisited a bulk of their discography with ease, including a few new tracks from their long-overdue debut long player. It was interesting to see the progression of their sound unfold from the License To Ill-era sonics of "88" to the smoked-out and synthy slow jam "Jump Rope" with Tennille. The Cool Kids are clearly undergoing a sonic transition — one that may become more defined once they drop the LP. Until then, the fans are with them. And it's shows like these where MCs still put in a real effort to ignite the crowd that it feels like hip-hop hasn't become all about posturing.
–- Max Herman
Category: Live Reviews, Weekly