Congress, Chicago
Saturday, December 12, 2009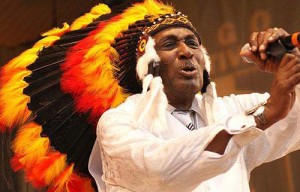 Last year, the Chicago Bluegrass & Blues Festival turned out The Avett Brothers and David Grisman. Clearly, this thing is anyone's game.
We made the point last year that Bill Monroe and Jimmy Martin styled some pretty clear-cut rules when it comes to bluegrass music, and you might struggle to find a headliner in this year's lineup that conforms. The blues part won't be a problem, though Eddy "The Chief" Clearwater clearly challenges the "accepted" attire of a Chicago bluesman.
On the potpourri front, ragtag semi-psychedelic roots rocker Dr. Dog close the event, Béla Fleck and his Flecktones will doubtless scramble your fingerpickin' mind, Emmitt-Nershi Band (a String Cheese Incident spinoff) dabble in all forms of country blues, and locals Giving Tree Band will likely flash their downhome cover of "Billie Jean."
I guess this is what happens when a club called CBGB gives birth to punk rock. A portion of ticket money will benefit Saving Tiny Hearts Foundation and Prevent Child Abuse.
— Steve Forstneger
Category: Stage Buzz, Weekly