Vic, Chicago
Tuesday, October 6, 2009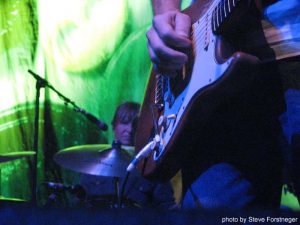 As the Hoboken-based indie-rock veterans Yo La Tengo cruised through "Sugarcube" Tuesday night, it was hard not to think of the song's video and think that this band still haven't learned to rock properly.
Ira Kaplan has come furthest along, though his dissonant "solos" still come off like a man frustrated at his guitar cable shorting out than a weedly-deedly flurry of notes. James McNew stares at his keyboard like he's peering under a car hood for the first time, and Georgia Hubley's understated drumming makes Low's Mimi Parker look like Animal the Muppet.
By not making any song seem special (the night's other audience concession, "Tom Courtenay," was performed as the alternate-take, Hubley-sung version), however, Yo La Tengo have arranged it so they can play the majority of a new album and everyone goes home happy. And so it was with the ironically titled Popular Songs (Matador), through which they moved from the Curtis Mayfield-meets-Zeppelin darkness of "Here To Fall"; the placid serenity of 10-minute instrumental "More Stars Than There Are In Heaven"; and the Motown stroll of "If It's True."
Their range of material was stunning as always, whether the loping pop of McNew's "I'm On My Way," the guitar meltdowns in "Flying Lesson," or managing to cover Devo without going near "Whip It." Even between songs Kaplan refused to stick to one persona, interrupting his outward geekiness to take a shot at the Chicago Cubs. Yo La Tengo's rock might not always be right, but it's got some nasty.
— Steve Forstneger
Category: Live Reviews, Weekly