Metro, Chicago
Wednesday, November 4, 2009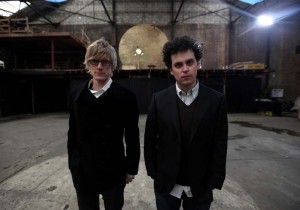 Simian Mobile Disco were already dead once, so it's probably useless to alert them of their suicide mission.
When they were just known as Simian, their debut arrived in a particular void in British rock, one that had dove neither in the direction of Radiohead abandon or conservative, Strokes-led garage rock. Chemistry Is What We Are (Astralwerks) just sort of sat there, thinking maybe it was on par with The Beta Band or Doves but misreading both. It spelled doom for the band's second album, We Are Your Friends, which was a complete reversal into energetic pop territory (and well worth your quarter on Amazon), but pop is useless if you don't have an audience.
Concurrent with Simian's split, French electro outfit Justice submitted a remix into a competition that revived a song called "We Are Your Friends," which is actually the chorus from the Simian track "Never Be Alone." The song and video were a violent success in Europe, even (literally) upsetting Kanye West, who stormed MTV Europe's stage after he was beaten to the channel's top 2006 prize. James Ford and James Shaw emerged as Simian Mobile Disco and find themselves where they are today.
Their debut, Attack Decay Sustain Release (Wichita), met a zeitgeist that was lauding Justice's original work, and SMD fell in line by proclaiming a dedication to "organic" dance music, via analog synths and such. A half-hour blast of techno-pop, Attack won over some rockists by exploding with, well, fun and its avoidance of ironic nods to the '80s. Its followup, Temporary Pleasure, takes advantage of their relative stardom by packing itself with guest stars (Gruff Rhys, Jamie Lidell, Alexis Taylor), sort of bragging about their new role as in-demand remixers and DJs. The album is, fittingly, a somewhat uncomfortable split between attempts at pop songs and straight-up dance tracks. Openers "Cream Dream" and "Audacity Of Huge" seem to be sending the album one way, when the astounding instrumental "10,000 Horses Can't Be Wrong." Then it's back to some low-quality, traditional pop, before "Synthesize" confirms the direction they ought to have stuck with.
Can lightning strike twice?
Phenomenal Handclap Band open.
— Steve Forstneger
Category: Stage Buzz, Weekly